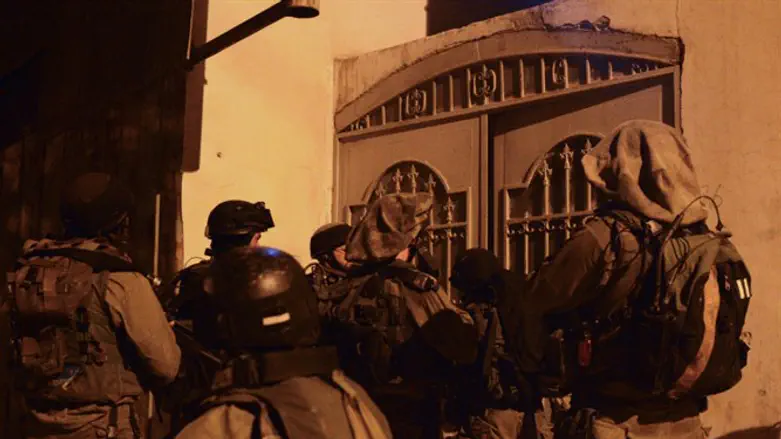 IDF night raid (archive)
Flash90
Israeli security forces apprehended a Palestinian Authority resident overnight, on suspicion the man aided the terrorist responsible for the deadly shooting attack in the Israeli town of Barkan in Samaria earlier this month.
During raids in the Palestinian Authority-controlled city of Tulkarem and the neighboring Arab village of Danaba, Israeli security forces arrested a number of suspects in a joint operation of the IDF, Border Police, Israel Police, and Shin Bet internal security agency.
Israeli forces opened fire on the home of one of the suspects during the operation, an army spokesperson said. No injuries were reported, and the suspect was taken into custody.
One of the suspects captured during the overnight operation was wanted for aiding Ashraf Naalwa, the 23-year-old Arab terrorist who shot and killed two Israelis in a factory at the Barkan industrial zone.
Kim Levengrond-Yehezkel, 28, and 35-year-old Ziv Hajbi were both killed in the attack, while a third victim was wounded.
An undercover Border Police unit was involved in the capture of Naalwa's accomplice, who authorities say aided Naalwa in evading Israeli security forces after the attack.
Over the weekend, Border Police nabbed another suspect who is believed to have aided Naalwa, providing food for the terrorist and assisting him in evading capture during the manhunt immediately after the Barkan shooting attack.