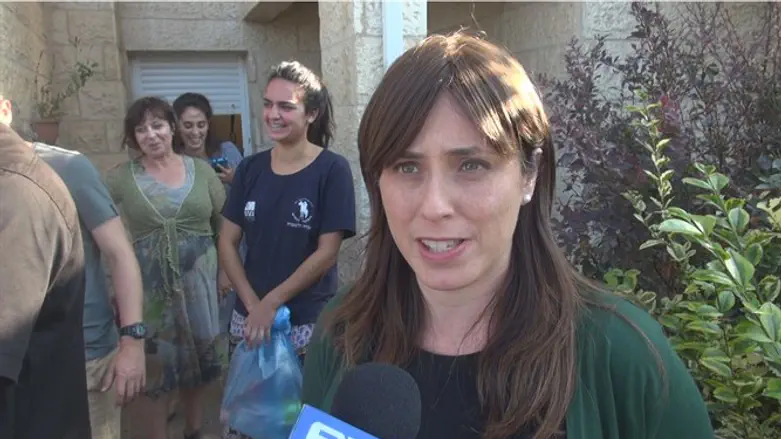 Tzipi Hotovely
Arutz Sheva
Deputy Foreign Minister Tzipi Hotovely responded to Jordanian King Abdullah's refusal to continue leasing the agricultural regions of the Arava and Naharayim to Israel as set out in the appendix to the peace agreement.
In an interview with Arutz Sheva, Hotovely explained the motive behind the move: "We know the background to the decision, Ninety Jordanian MPs demanded this and wanted to insist on their rights under the peace agreement with us."
"This is evidence of Abdullah's weakness vis-a-vis the internal Jordanian pressure. He is in deep domestic distress, but we will have to preserve the Israeli interest. There is a peace agreement that includes a lot of cooperation in a space that meets the Arab world's struggle against the Iranian enemy, We must also remember the considerable economic problems that Jordan needs to have addressed, including the water issue, and in general the Jordanian interest is greater than the Israeli one without spoiling the relationship."
Despite all this, the deputy minister was cautious when asked if it means that Israel will not be satisfied with discussions and talks with the Jordanians, but will even threaten or place Jordanian interests at the table. Hotovely noted that "at this moment, there is a total blackout on our ability to talk about it publicly. Prime Minister Netanyahu consulted the Jordanian ambassador and relevant officials at the Foreign Ministry. I am up to date but can not share with the public the direction where things will go, but we can say that we will not accept the Jordanian declaration as it is. We will strive to change when our favorite is to restore the situation as it has been throughout the years. There will be consultations within Israel as well as with the Jordanians."
As for the possibility of Israeli compensation that may allow the king to soften his position, Hotovely said: "I do not think that the discourse is now a discourse of compensation. It is in both sides' interest to preserve the peace agreement and there is a price for the Jordanian side's decision not to act in the spirit of the agreement and to do something that is unacceptable. It is worth waiting for the next two weeks in which the discussions will take place. "
Has the Israeli government failed failed? It was known that this day would come and there was a need to prepare for it. Hotovely does not accept the very question: "We have not waited for the last minute, the subject is known to the prime minister, and the discussions are taking place within the Foreign Ministry. I am saying that the issue is sensitive now, and we do not want to lose our options. We are leaving the matter to the Foreign Ministry, the National Security Council, and the Prime Minister's office."