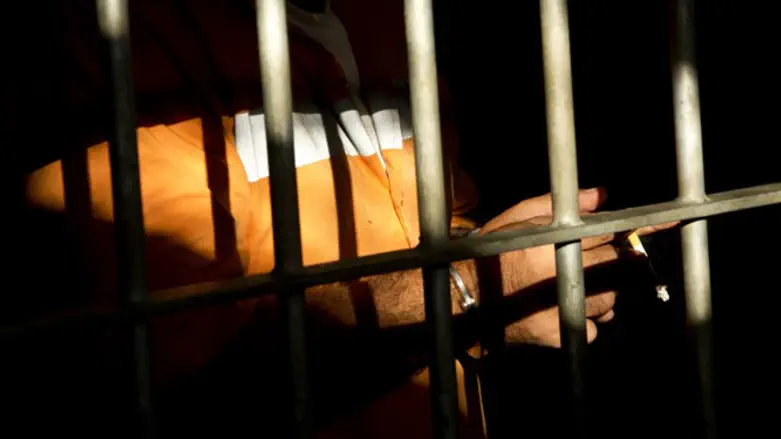 Jailed suspect
Flash 90
Two senior Palestinian Authority officials have been arrested by Israeli security forces, following the kidnapping of an American citizen in Jerusalem.
On Sunday, Israeli authorities acknowledged that Palestinian Authority Jerusalem District Governor Adnan Ghaith had been arrested, along with Jihad Al-Faqeeh, regional director of the PA's intelligence agency.
The two had been taken into custody Saturday, though the reason behind the arrest was not disclosed.
According to a report by Reuters, however, attorneys representing the two PA officials say their clients were arrested on suspicion they were involved in the kidnapping of an American citizen earlier this month.
The kidnapped man is said to be an Arab American who possesses an Israeli ID card, and is a legal resident of Jerusalem.
Israeli news outlets have reported that the PA officials suspected in the man's kidnapping targeted him for allegedly facilitating the sale of Arab-owned real estate in the Old City of Jerusalem to Jews.
Under PA law, selling of land to Jews is illegal and punishable by death. However, such sentences must be approved by the PA chairman, and current chairman Mahmoud Abbas has preferred to authorize life sentences for such offenses, possibly due to fear of an international backlash.
In 2014, Abbas toughened the PA law against selling property to Israeli Jews, so that any Palestinian Arabs involved in renting, selling or facilitating real estate transactions with citizens of "hostile countries" in any way would receive life imprisonment and hard-labor.
Earlier this month, senior PA leaders condemned the sale of property in the "Aqaba Darwish" section of the Old City to Jews, and formed a commission of inquiry to investigate the sale and those involved in the transfer.
State Department officials at the US Embassy in Jerusalem told Reuters they were aware of the kidnapping.
"We are aware of reports that a US citizen has been detained by the Palestinian Authority. When a U.S. citizen is incarcerated or detained overseas, the Department of State works to provide all appropriate consular assistance," an embassy official said.