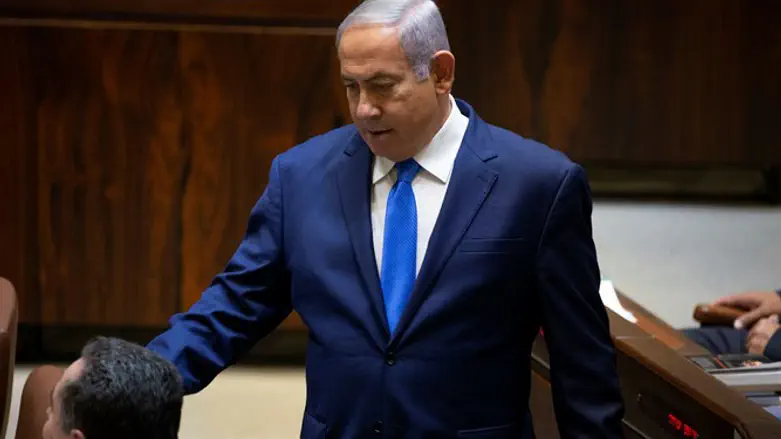 Binyamin Netanyahu
Esti Dazivov/TPS
An illegal Bedouin encampment east of Jerusalem will be demolished, Israeli Prime Minister Binyamin Netanyahu said Sunday evening, following a security cabinet meeting which backed indefinitely delaying the implementation of the eviction orders.
Speaking at the weekly gathering of cabinet ministers Sunday, Netanyahu insisted that his government would evacuate the town of Khan al-Ahmar, an illegal Bedouin settlement built on Israeli land east of Jerusalem.
Originally established in the 1990s, Khan al-Ahmar houses some 170 to 180 Bedouin squatters in a series of illegal encampments built on land belonging to the neighboring Israeli town of Kfar Adumim.
Built without any permits or approval, Khan al-Ahmar is slated for demolition, following a series of Israeli court decision, culminating in a September ruling by the Supreme Court paving the way for its evacuation.
On Sunday, however, the Israeli security cabinet adopted a proposal pushed by Netanyahu to postpone the implementation of the evacuation.
The delay, which was not given a final deadline, is intended to give the state time to negotiate a possible self-evacuation of the residents to an alternative site in the area.
Nevertheless, Netanyahu insisted Sunday evening that regardless of the residents' decision, Khan al-Ahmar would be evacuated.
"Khan al-Ahmar will be evacuated, with or without agreement. It will not take weeks; it will be much shorter," said Netanyahu. "We will make several vital preparatory moves in the international arena. We will give a last chance for evacuation by agreement but in any case Khan al-Ahmar will be evacuated. I am not talking about a cosmetic evacuation but a real evacuation."
"Neither do I need fictitious ultimatums because we are all united around one goal – to evacuate this illegal construction. There is no argument about this. A 'fake' argument is being created. Khan al-Ahmar will be evacuated and very soon."
The United Nations, European Union, and the International Criminal Court have all expressed their opposition to the planned demolition, with the ICC warning Israel could face war crimes charges if the demolition is completed.