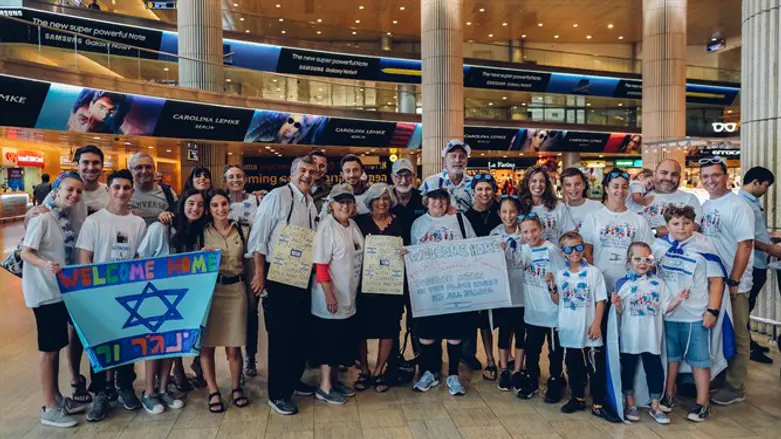 NBN Yom HaAliyah US Olim
Jonny Finkel Photography.
As the State of Israel marks the national holiday of Yom HaAliyah (Day Celebrating Immigration to Israel) on Tuesday, October 16, a diverse group of 33 Americans immigrated to Israel before the weekend on a Nefesh B'Nefesh group Aliyah flight in cooperation with Israel's Ministry of Aliyah and Integration, The Jewish Agency for Israel, Keren Kayemeth LeIsrael (KKL) and Jewish National Fund-USA.
The flight landed at Ben Gurion Airport with new immigrants coming from 9 US states and all walks of life, ranging from young students to retirees. The Olim (new immigrants) arrived through Nefesh B'Nefesh, the organization responsible for facilitating the Aliyah of over 57,000 North American and UK Jews to Israel since 2002.
The new Olim will reside in communities throughout Israel. They work in professions such as biotech, engineering, education, media, business and psychology. The group also includes individuals who have already made significant contributions to Israel, including a man who helped establish a microelectronics laboratory for the Israeli Ministry of Defense.
As the Olim begin their new lives in Israel, the Jewish state will celebrate Yom HaAliyah on October 16, which acknowledges Aliyah as a core value of the country and celebrates the contributions of immigrants to Israeli society. Yom HaAliyah began as a community movement in 2012, and in 2016 the Knesset, in a rare moment of cooperation across political parties in the Israeli parliament, turned the initiative into law by officially adding it to the national calendar.
"Yom HaAliyah is an important and inspiring opportunity to appreciate how Olim have shaped Israel's culture, economy and national character and remind us all to appreciate the miraculous times we live in," said Rabbi Yehoshua Fass, Co-Founder and Executive Director of Nefesh B'Nefesh. "Our latest group of Olim will no doubt have a transformative impact on Israeli society through community-building, innovation, and so many other outstanding and diverse contributions."