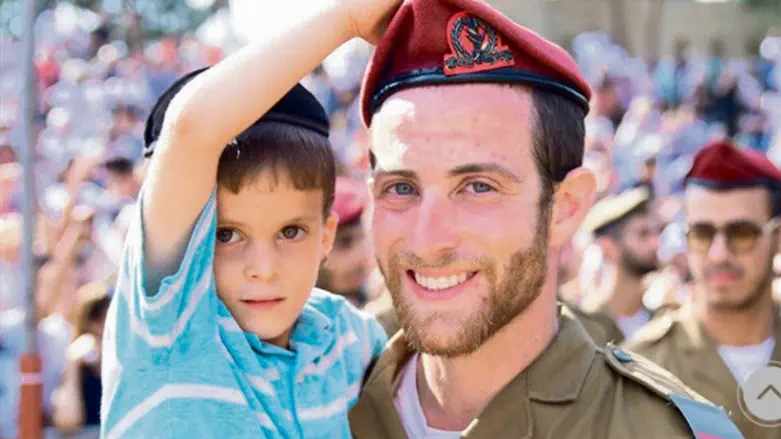 Shmuel Mishori
IDF Spokesperson
Shmuel Mishori, a 30-year-old haredi man who immigrated from the United States two years ago, fulfilled his dream of joining the Paratroopers Brigade in the Israel Defense Forces.

Yediot Aharonot reported this morning, Sunday, that Mishori stood two years ago with his two young sons and watched the beret-granting ceremony for the paratroopers. His dream was always to be a paratrooper himself, but his age and marital status made the process difficult for the army. But then his son, who was only five years old, approached the training base commander, Lt. Col. Eliav Elbaz, and asked him to turn his father into a real paratrooper.

The battalion commander, who could not meet the child's sincere request, promised to help in the matter, and he did.
Last Thursday, Corporal Mishori stood himself in the ceremony and received the long-awaited beret before the astonished eyes of his family, after graduating with distinction as a fighter in the haredi paratroopers company. The beret was given to him by Lt. Col. Elbaz, accompanied by none other than Mishori's small son, who played such a significant part in the exciting development.

"At the end of an arduous journey, I fulfilled my dream of joining the Paratroopers Brigade and being an inseparable part of the haredi fighting unit in the paratroopers," said the excited Mishori. "This is proof that there is nothing that stands in the way of will and that a religious lifestyle can be combined with family life and service in the most challenging and operational military framework."