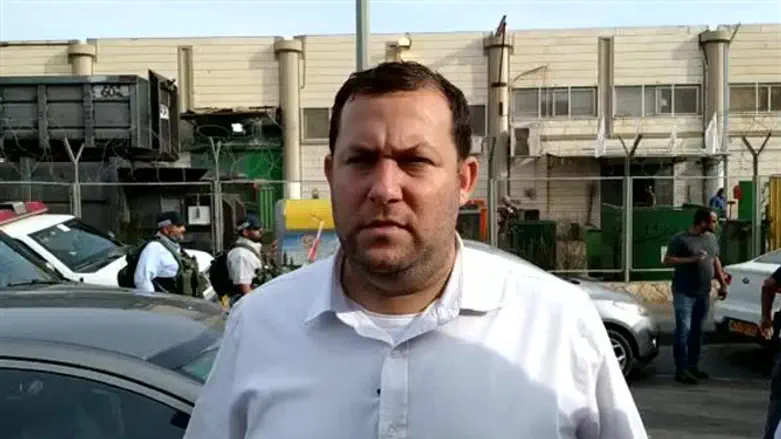 Yossi Dagan in Barkan
Hillel Maeir/TPS
Yossi Dagan, head of the Shomron Regional Council, on Sunday responded to the murderous terrorist attack in the Barkan Industrial Zone and called for and end to the terror in Judea and Samaria once and for all.
"We must respond to such a serious terrorist incident with unprecedented military action against the terror nests in Judea and Samaria," Dagan said.
"Behind this terror incident is the spirit of the Palestinian Authority, whose operatives have already carried out a number of terrorist acts in the region. We must hit them with all our might. We demand the death penalty for the criminal terrorist and the expulsion of his family from Israel," Dagan added.
Kim Levengrond-Yehezkel, 28, from Rosh Ha'ayin, and Ziv Hajbi, 35, of Rishon LeZion, were the victims of the attack which took place on Sunday morning.
The attack took place shortly after 7:30 a.m. The terrorist Ashraf Na'alwa, a resident of the village of Shweika, arrived at a factory belonging to the Alon group in the Barkan Industrial Zone, where he had worked for the past seven months.
The terrorist climbed the stairs to the offices on the second floor, opened fire and murdered Levengrond-Yehezkel and Hajbi. He also wounded another worker who was hospitalized in moderate condition at the Beilinson Hospital.
Na'alwa then fled the scene. IDF and Israel Security Agency (Shin Bet) forces continue to hunt for him. IDF soldiers arrived at the terrorist's home, mapped the building and carried out interrogations and arrests of suspected terrorists.