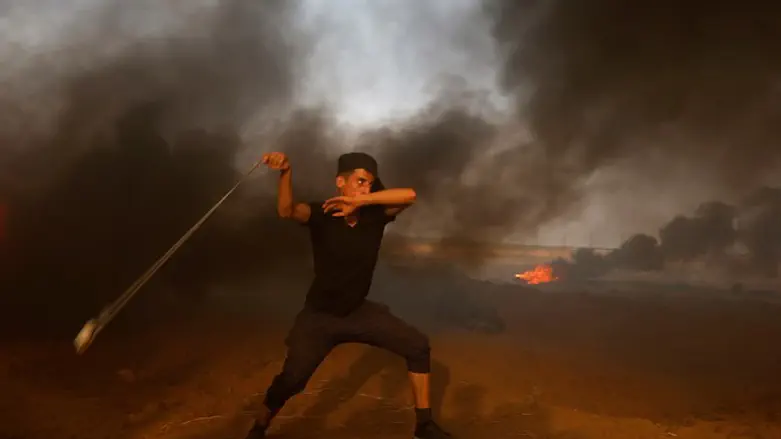 Palestinian Arab throws rock at Israeli soldiers
Reuters
Violent protests by Palestinian Arabs along the Gaza border continued on Friday as they have been every Friday since March 30.
Thousands of Palestinian Arabs rioted in five locations along the border, throwing rocks and burning tires at soldiers and at the border fence. In one incident, a grenade was thrown at an IDF force. There were no injuries. The soldiers responded by using riot dispersal means.
The Hamas-run health ministry in Gaza said that 120 people were injured, including two in serious condition.
The Arabs also claimed that they had succeeded in downing an Israeli aircraft that fired tear gas canisters at demonstrators east of Rafah in southern Gaza.
The IDF confirmed that a rocket-propelled grenade launcher fell in southern Gaza, likely due to a technical malfunction. The IDF also said that there was no fear that any information had been leaked.
Arab demonstrator in Gaza
Reuters
As part of the weekly violence along the Gaza border. the Arabs have been using kites and balloons with explosives attached in order to set fire to Israeli property.
The thousands of balloons and kites carrying incendiary and makeshift explosive devices have sparked hundreds of fires and caused millions of dollars in property damage inside Israel.
The violent protests have been openly encouraged by Gaza's Hamas terrorist rulers.
(Arutz Sheva's North American desk is keeping you updated until the start of Shabbat in New York. The time posted automatically on all Arutz Sheva articles, however, is Israeli time.)
(Arutz Sheva's North American desk is keeping you updated until the start of Shabbat in New York. The time posted automatically on all Arutz Sheva articles, however, is Israeli time.)