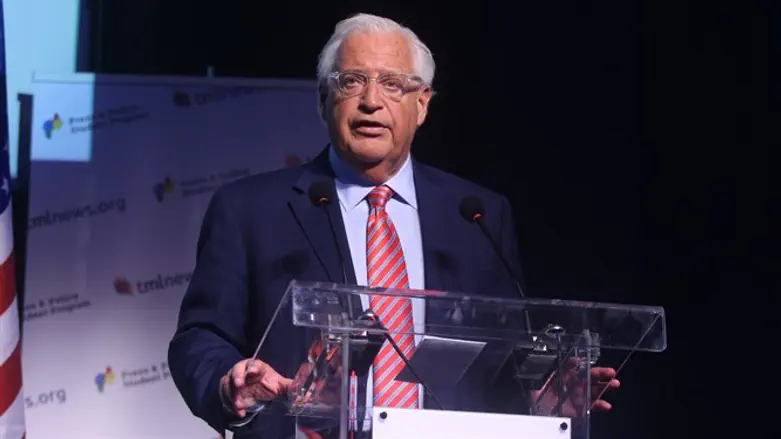 Friedman
Lior Mizrahi
The US ambassador to Israel, David Friedman, addressed President Trump's remarks that Israel would have to pay a price for the transfer of the embassy.

According to a transcript published in the Jewish Insider of a conversation with representatives of the American Jewish Congress, Friedman said that "There is not and there never was any demand made of Israel that they do anything in exchange for the Embassy move."
"The President feels that if the parties are lucky enough to be sitting in a room and making progress, he might say to the Israelis, 'Look, can you do a little bit more? Look what we did for you. Is there's something more that you could do?' It's not that he has something specific in mind, but just that under the circumstances that the United States has engaged in really significant good faith efforts to strengthen Israel and strengthen its historical multi-thousand-year connection to Jerusalem, maybe the Israelis could make it clear by leaning in a little bit as well. That's all it meant… I was there when the [Jerusalem] decision was made. I was there watching it and advocating for it in real time."
He also referred to the American peace plan in the conversation and said that its publication was "not imminent."
"There's no schedule [for the rollout of Trump's peace plan]. I would imagine that we will roll something out. I hesitate even to put a month on it because it has shifted as we continue to listen and talk to people. So it's not imminent. There are some rumors that we might present something at the UN [General Assembly]. It's not going to happen. We will release it. We're just trying to think of when we think is the right time, garnered to get the most positive response and maybe make the most progress."
Friedman said he believes the peace process has been "overtaken by other events."
"I think the facts have changed and the world has changed more than the priorities have changed. If Israel made peace tomorrow with the Palestinians, a major assumption [is] that they could connect or reconcile the West Bank and Gaza. But even if they could do that, they haven't solved Bethlehem. They haven't solved Syria. They haven't solved Iraq. So their three biggest threats are still there. So the question is how big a risk do you take for peace with your kind of weakest enemy when your strongest enemies are still out there and you haven't solved them? … I mean, the world has become exhausted of the Palestinian narrative. I mean, I'm distinguishing the Palestinian narrative from the Palestinian people. The Palestinian people have gotten terribly disserved by their leadership for generations. But the narrative that somehow Israel is, you know, a malign actor that has to be reined in, it's just not resonating anymore."
"Having said that, Israel has two and a half million or so Palestinians in Judea and Samaria, and at some point, they're going to have to make a call. You have to either let them go in an independent state or they're going to have to absorb them. Right now they've done neither… At some point, they're going to have to make a decision. We'd like to help them make the right decision – the right decision for them and the Palestinians – during the Trump Administration because it's a good environment, I think, right now for them to be making progress on this. If they can't, they can't, but we're not giving up. It's actually filling an important objective but certainly, it's been overtaken by other events."