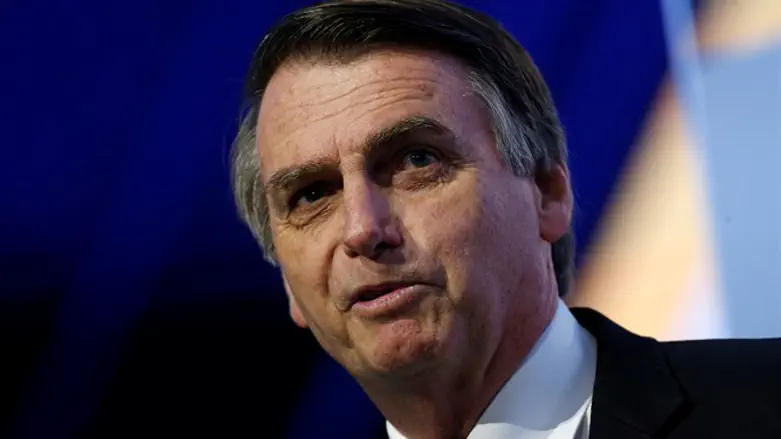 Jair Bolsonaro
Reuters
Brazil's front-running presidential candidate has announced he will close the Palestinian Authority's "embassy" in Brasilia in addition to moving his country's embassy from Tel Aviv to Jerusalem.
"Is Palestine a country? Palestine is not a country, so there should be no embassy here," Jair Bolsonaro, a lawmaker from the Social Liberal Party, declared on Tuesday when the National Congress re-opened after a three-week recess.
"You do not negotiate with terrorists," he added.
The right-wing lawmaker is a strong admirer and supporter of Israel. He slammed the fact that Palestinian Authority diplomatic representation is located less than two miles away from the Planalto Palace, Brazil's government headquarters.
Elections are scheduled to be held in Brazil on October 7.
Brazil recognized "Palestine" as an "independent state" in 2010 as part of former far-left President Luis Inacio Lula da Silva's alignment with extremist governments such as Iran and Libya. At that time, Brazil donated $10 million to Hamas. Lula's political heir, Dilma Rousseff, continued the anti-Israel sentiment during her term until she was impeached in 2016.
Bolsonaro, a 62-year-old conservative politician who appears to be as pro-Israel as he is pro-law and order, said he will seek to broaden the dialogue with Israel, the United States and Europe.
The candidate has participated in a handful of television interviews in recent weeks, where he noted that he has never been accused of corruption during his nearly 30-year political career and also repeated his intention to move the Brazilian embassy to Jerusalem.
Like evangelical and deeply conservative politicians in the United States, Bolsonaro is divisive among Jewish voters, who tend to be socially liberal but want their representatives to be strongly pro-Israel.
"My heart is green, yellow, blue and white," Bolsonaro said to an audience of 400 at the Hebraica club in Rio in 2017 in a reference to the Israeli and Brazilian flags. He won big applause as he hailed the Jewish state for its power and social welfare system, saying it should inspire Latin America's largest nation.
Bolsonaro's passionate supporters usually refer to him by the nickname "Mito," from the word myth or legend. With over 5.5 million Facebook followers, Bolsonaro was the top vote-getter among 46 congressman elected from the area in 2014 and won his sixth consecutive term in 24 years. His three sons, also politicians, have been constantly photographed wearing T-shirts with messages in Hebrew.
Brazil's leftist workers' party, or PT, has launched the official campaign of Lula for president despite the fact that the charismatic former head of state is currently serving a 12-year prison sentence for corruption and money laundering and in all likelihood will not be on the ballot.
Local research institutes are carrying out polls with and without Lula, who ruled from 2003 to 2011, as an option. All polls that include his name have him tied with Bolsonaro.