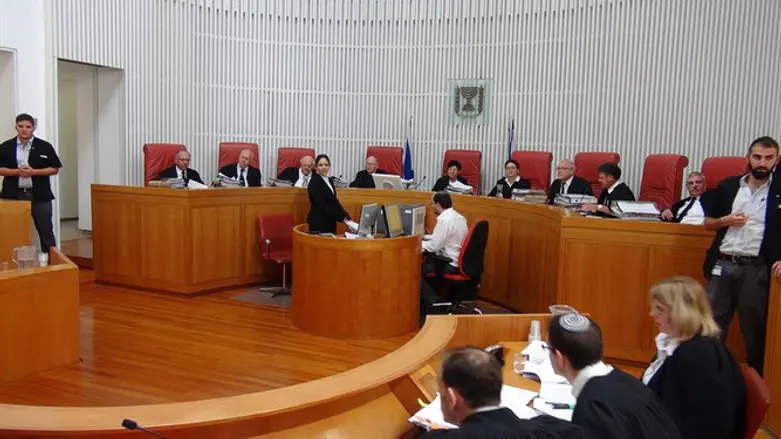 Supreme Court hearing
Hezki Baruch
The Supreme Court gave the government an additional three months to pass a new Draft Law, before the previous Draft Law would expire.
The justices accepted the State's request, submitted in accordance with the Prime Minister's instructions, to postpone the final date for enactment of the draft law until the end of the upcoming winter session, in April 2019.
In their decision, the justices wrote: "After we considered this matter, we decided to respond to the request in part and to postpone the annulment of chapter 3 of the Defense Services Law so that it will come into effect on December 2."
The state's request states that "regulating the issue of enlisting them for the service of yeshiva students is one of the most complex and sensitive issues facing Israeli society."
On the other hand, Deputy Health Minister Yaakov Litzman told the Prime Minister that if a petition for deferment to the Supreme Court is not filed following the expiration of the previous draft law, he will resign from the government.
Litzman was quick to ask for a postponement, because according to the decision of the Council of Torah Sages six months ago, if the Draft Law is not legislated within three Knesset sessions, UTJ should withdraw from the coalition.
However, two days before the end of the session, in consultation with members of the Hasidic Council of Torah Sages, the decision was made not to instruct Hasidic MKs to resign from the coalition if a reply was received from the Supreme Court by the Hebrew month of Elul, which begins this Saturday. This was in order to allow the court to respond to the State's request.
Last September, the Supreme Court struck down the previous Draft Law on the grounds that the provisions allowing yeshiva students to avoid military service were discriminatory against the majority of Israelis. The court gave the State one year to pass a new Draft Law to regulate IDF enlistment.