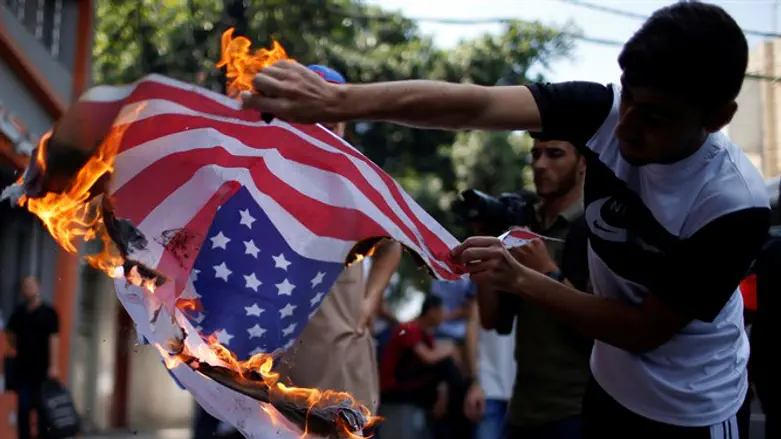 Muslim boy burns US flag in Gaza City
Reuters
A political source said today that despite American efforts it appears that the US peace plan will not be presented in the foreseeable future.
The source responded to a move by the US National Security Council that published a tender to hire experts for a steering committee to be established for the program under the heading Committee on Middle East Policy. The committee will be chaired by Middle East special envoy Jason Greenblatt.
"Expanding the team involved in the outline doesn't indicate anything more than the desire of the American administration for the issue to remain on the agenda at some basic level and not drop it," the source told Arutz Sheva.
He adds that "from our conversations with the Americans and according to Palestinian conduct, the plan of the century, as Trump called it, is moving further away. The messages coming from the United States indicate this outline will certainly not be presented before the midterm elections in early November, and the way things look, it already won't happen in 2018."
The new committee set up by Greenblatt will deal with a number of issues, the main ones being economic means to promote peace. A team of experts will deal with the security and political aspects of the program and another team will concentrate on the media marketing of the American peace plan, which the administration has not yet considered.
In the United States, recruitment and expansion of the Greenblatt team indicates the Americans want to accelerate the plan and publicize it as soon as possible, despite the ongoing disengagement from the Palestinian Authority, explained the source.