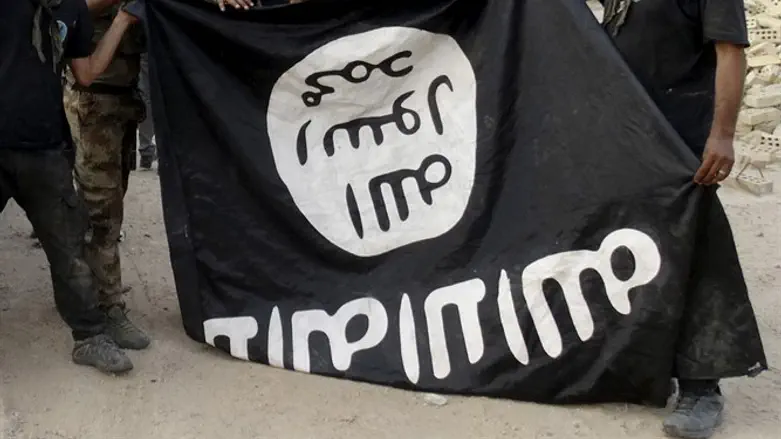 ISIS
Reuters
ISIS forces in Syria executed one of the hostages they took with them from the city of Sweida when they attacked it last week, Syrian media reported today. The victim was identified as Muhannad Touqan Abu Amar, age 19.
The ISIS attack on Sweida - held by Bashir Assad's forces - took place on July 25. The organization's terrorists occupied villages and carried out suicide attacks inside Sweida, killing more than 200 people, many of them unarmed civilians.
A Syrian observer organization also reported Abu Amar executed. It said more than 30 people had been kidnapped in the attack on Sweida.
Most Sweida residents are Druze, whose leaders are in negotiations with ISIS about the hostage's fate.
On Wednesday the IDF identified a number of terrorists, apparently ISIS members, who were making their way through an enclave in the southern Golan Heights. IAF aircraft attacked the squad, and in the morning during searches of the area, seven bodies were found, and around them were vests, five Kalashnikovs, and grenades.
The IDF Spokesman said all seven terrorists who were killed belonged to the Islamic State Organization (ISIS).
Assad NDF forces and Druze men take villages in eastern Sweida from ISIS; Video caption reads: "
Following a full-scale ISIS attack on Sweida, Druze men from several regions in Syria supported by NDF forces and Syrian army troops (Syrian army also provided heavy artillery and air support) came to liberate the villages that were occupied by ISIS."
Chief of Main Operational Directorate, General Staff, Russian Armed Forces Lieutenant General Sergei Rudskoi speaks during news briefing with map showing territory of Israel, Jordan, Lebanon and Syria seen in the background, in Moscow, Russia August 2, 2018.
Reuters
Aftermath of suicide attack in Sweida
Reuters