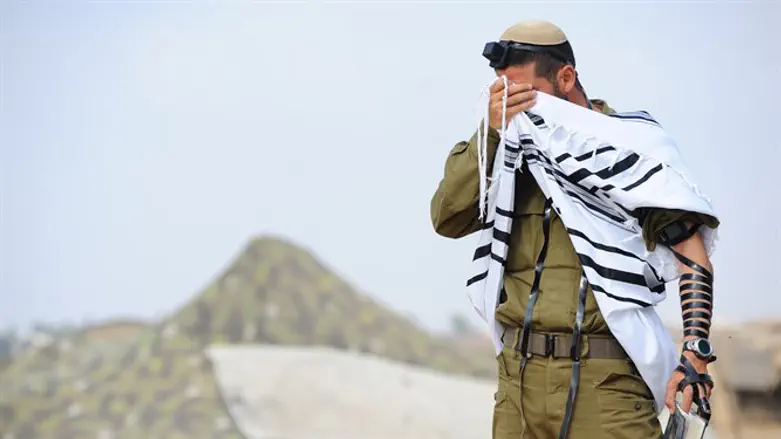 Religious soldier prays (illustration)
Flash 90
The IDF forced soldiers attending commanders course to attend a pro-transgender lecture given by an LGBT activist despite complaints from observant troops that it violated their religious beliefs.
According to the Channel 2 report, the lecture was related to the LGBT protests regarding the Surrogacy Law. The class was run under the auspices of the base's Education Corps, which provides a schedule of mandatory educational events for troops throughout the course.
"As part of our training course, we were forced to enter into a class with a transgender person," one soldier messaged his rabbi. "During the lecture, there were clear messages about connecting to our femininity and how much the subject of sex is above everything. "
"I feel that it hurts me as a religious soldier and as a combat soldier who wants to be part of the team," the soldier added. "Suddenly, because I emphasized that I do not agree with this issue, it makes me ashamed of the opinion that I grew up because it was perceived as primitive and different from all of them."
According to the report, the entire Educational Corps at the base was dedicated to promoting the LGBT narrative and had close ties to the pro-gay Hoshen organization, which the IDF recently stopped collaborating with.
The IDF admitted that the class was against regulations and promised to investigate. "The contents of the Education Corps schedule in question were not approved by the [head of the] Education Corps. These are initiatives of the unit following an incorrect understanding of the procedures, which will be sharpened and reviewed by the relevant parties. "
The IDF has drawn flack from both the left and right-wing in recent years over its propensity to collaborate with civilian institutions that promote a clear a political bent. Amid mounting criticism, Chief of Staff Gadi Eizenkot decided in March to end its activities with 82 of the 97 organizations it was affiliated with in an apparent effort to depoliticize the Education Corps. The 15 that the IDF did not end its programs with non-political topics such as road safety and the Holocaust.
In early July, the military made waves when it announced that it had decided to end its multi-year partnership with the Mandel Leadership Institute amid mounting criticism that the institute was brainwashing the IDF's most promising officers with a left-wing ideology.