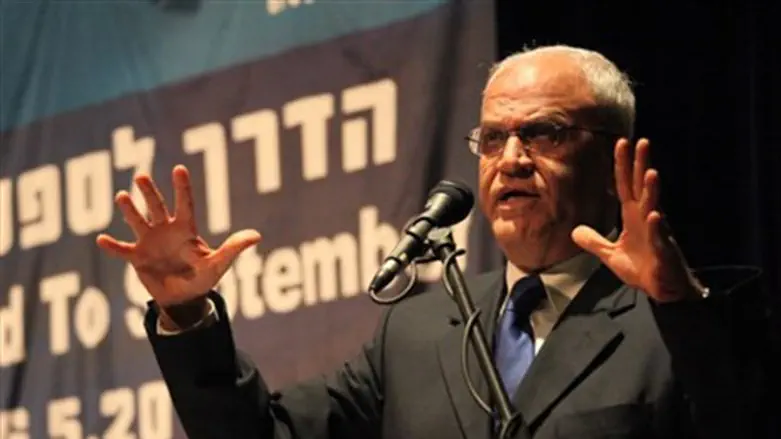 Saeb Erekat
Flash 90
The Palestine Liberation Organization (PLO) on Monday blasted the Nationality Law, which was approved by the Knesset last week.
The Nationality Law codifies in the nation's Basic Laws Israel's status as the nation-state of the Jewish people into Israel's Basic Laws and establishes Hebrew as its sole official language while giving Arabic special standing.
The Knesset approved the bill in its second and third readings last week by a margin of 62 to 55.
"The law aims at destroying the two-state solution and replacing it with an apartheid regime," said PLO Secretary-General Saeb Erekat, according to the Xinhua news agency.
He also accused the U.S. government of aiding and abetting the Israeli law.
The U.S. is a "full accomplice" in this law, which is a tool of its "Deal of the Century," claimed Erekat, who called it "a racist and politically blind law."
Riyad Mansour, the PA representative at the UN, has held a meeting with the legal department of the UN General Assembly, over Israel's UN membership after it approved the law, Erekat said.
"The Israeli occupation, war crimes and ethnic cleansing against the Palestinian people in the Palestinian territories is going to end and fail eventually," he warned.
Jordanian Foreign Minister Ayman Safadi last week blasted the Knesset over its approval of the Nationality Law, claiming the bill is discriminatory.
"Israeli Knesset adoption of 'nation state' bill consolidates discrimination. It is a violation of international law, human rights. It is an act that will further fuel tension. International community must stand against it as yet another measure that threatens security, stability," Safadi tweeted.
A spokesman for Turkish President Recep Tayyip Erdogan blasted Israel over the passage of the Nationality Law as well, and said his government expressed its solidarity with the Palestinian Authority.
The spokesman, Ibrahim Kalin, claimed the Nationality Law established an "apartheid state" in Israel.
The legislation was also criticized by the Arab League, which called its approval another bid to cement the "occupation of Palestinian territories" and wriggle out from recognizing Palestinian rights.