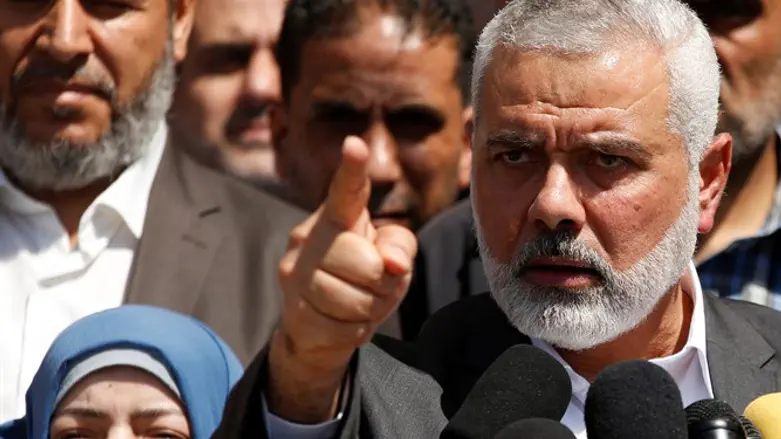 Ismail Haniyeh
Reuters
Hamas leader Ismail Haniyeh on Sunday warned Israel of further escalation unless the "siege" on Gaza is lifted.
Haniyeh spoke at the funeral of the two teenagers killed in an IDF airstrike in Gaza and was quoted by Yediot Aharonot.
"Let the enemy end its aggression first and then the resistance will stop," Haniyeh said in a eulogy for two teens who were killed when a half-constructed high rise they were in was hit by an Israeli missile launched after a barrage of rockets were launched from Gaza into Israel.
The IDF said that the building was being used by Hamas for military training.
"We are on the road to victory, the issue of Palestine, Jerusalem and Gaza is still on the top of our agenda. The solution to the situation in Gaza is to lift the siege. The Palestinian people do not believe in promises about projects. The people want to see real results that will bring an end to this siege," said Haniyeh, according to Yediot Aharonot.
"The weekly marches will continue until we've reached all of our goals, first and foremost: lifting the siege on Gaza. We'll continue to march until the right of return is realized. We will not give up on returning to all the land of Palestine," he vowed.
Haniyeh also said that the terrorist factions in Gaza are those who had the last world when it came to ending the latest escalation.
"Our enemy, which aspires to impose equations of the rules of confrontation, has encountered resistance. We say to everyone that the marches that have put our issue on the map will only become more intense. The assassinations, carried out by your warplanes, will not happen again. These equations will not work again. Many elements were involved in mediating the ceasefire, but it was the word of the resistance that was the loudest," he was quoted as having said.
Over the weekend, Gaza terrorists fired over 200 rockets at southern Israel. This is in addition to the continued kite and balloon terrorism which has sparked hundreds of fires and caused millions of dollars in property damage inside Israel.
The IDF attacked several terrorist targets in Gaza in retaliation for the rocket barrage, including a building that allegedly served as a "Palestinian library", but in reality had been used by Hamas as a training facility for urban warfare, techniques to take over buildings and tunnel survival.
Sunday's comments mark the second time that Haniyeh has declared that the weekly violent riots along the Gaza border will "continue until Jerusalem is liberated and the Gaza blockade ends."