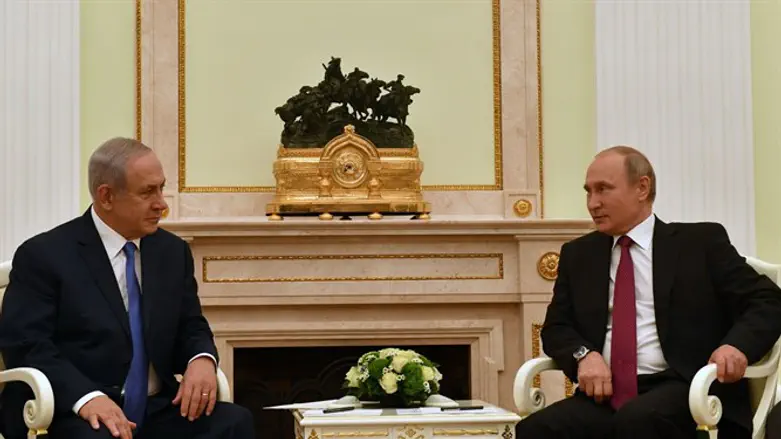 Netanyahu and Putin this evening
Kobi Gideon, GPO
Prime Minister Netanyahu today, Wednesday, met at the Kremlin in Moscow with Russian President Vladimir Putin and made the following remarks at the start of the meeting:
"I would like to compliment you on the very successful World Cup that Russia is organizing. The entire world is watching with great interest, including us in Israel, and I must say I am as well. So thank you for the invitation to watch the game later this evening.
Of course you mentioned the moving parade in honor of the victory over the Nazis, which was a great event that made an impression in Israel and I think around the Jewish world.
Every visit such as this is an opportunity for us to work together to try to stabilize the situation in our region, increase security and increase stability.
It is clear that our focus is on Syria and Iran. Our view that Iran needs to leave Syria is well-known; it is not new to you.
Several hours ago a Syrian UAV penetrated Israel's airspace. We shot it down and we will continue to take strong action against any trickle [of fire] and any infiltration into Israel's airspace or territory. We expect that everyone will respect this sovereignty and that Syria will strictly abide by the [1974] Separation of Forces Agreement.
The cooperation between us is a central component in preventing a conflagration and deterioration of these and other situations; therefore, I would like to thank you for the opportunity to discuss these matters and, of course, all other issues. Truly, thank you."