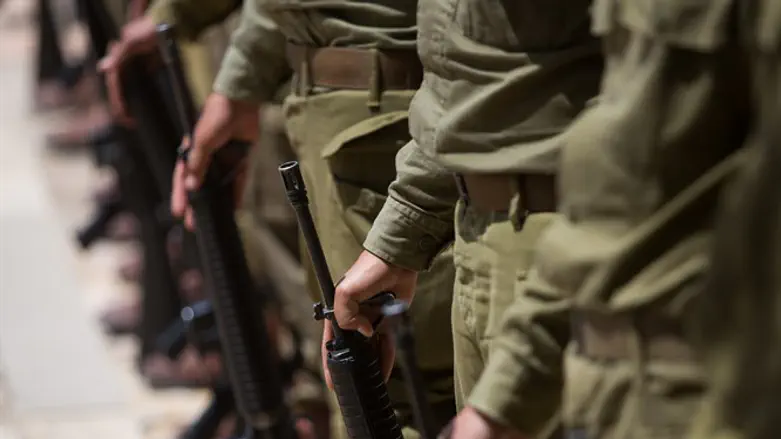 IDF soldiers
Yonatan Sindel/Flash 90
The IDF has decided to end its multi-year partnership with the Mandel Leadership Institute amid mounting criticism that the institute was brainwashing the IDF's most promising officers with a left-wing ideology.
The IDF had sent officers learning in an exclusive program combining Company Commander's Course with an academic degree to the Jerusalem-based Mandel Leadership Institute. Founded in 1992, the institute defines itself on its website as dedicated to the "flourishing of the United States and Israel as just, inclusive, and compassionate societies, and to improve the quality of life in both countries".
The program had drawn the ire of right-wing activists, who alleged that the lecturers were brainwashing promising IDF officers with a left-wing ideology. A comprehensive report compiled by the Lavi public policy NGO pointed out the Mandel Institute's close ties with the left-wing New Israel Fund's Shatil initiative and the overwhelmingly left-wing orientation of its lecturers.
Contrary to IDF regulations, the contract with the Mandel was signed without issuing a public tender and the decision to collaborate with the institute went against instructions by IDF Chief of Staff Gadi Eizenkot recently to cut ties with educational institutions that had a clear political agenda.
As a result, IDF Chief Education Officer Brigadier General Tzvika Fierzon decided to stop sending IDF officers to be educated by the Mandel Institute, ending a two-year pilot program.
Lavi, which was instrumental in exposing the collaboration, praised the "cessation of the education of the officers of the Tactical Command College by the Mandel Institute, which is an important step in the removal of politics from the IDF".
"Only recently, the President of the Mandel Institute declared that he views IDF officers who are educated at the institute are "educational agents for all of the civil society," it added, contending that these "extremist political views, should be of concern to every citizen of Israel and can not be accepted."
The IDF has drawn flack from both the left and right-wing over its propensity to educate officers in civilian institutions with a political bent. Amid mounting criticism, Eizenkot decided in March to end its activities with 82 of the 97 organizations it was affiliated with in an apparent effort to depoliticize the Education Corps. The 15 that the IDF did not end its programs with non-political topics such as road safety and the Holocaust.