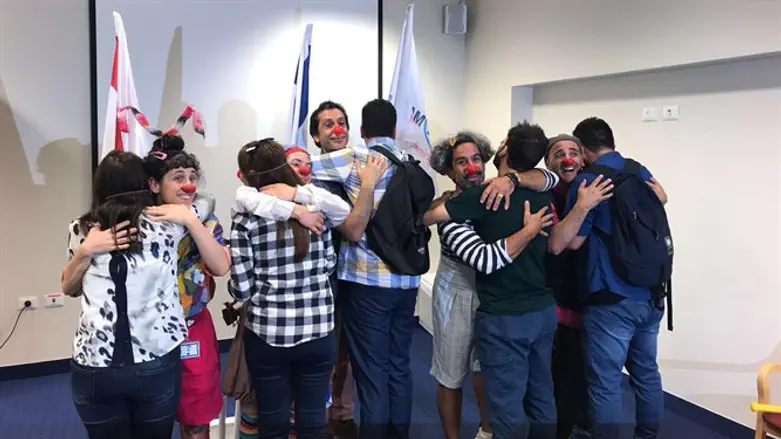 Yazidis (backs to camera) in medical clown course
Foreign Affairs Ministry Spokesman
A group of Yazidis from Iraq recently visited Israel to receive training in medical clowning to help children in need of treatment or who suffer post-traumatic stress disorder.
Participants in the special training program spent several days in Israel and left with new tools and techniques to enable them to help people living in war zones to smile. Help is offered regardless of origin, religion, or gender.
The activity was deliberately kept from cameras and media because of the complexity and sensitivity of the Yazidi presence in the State of Israel.
The training was carried out with the assistance of DREAM DOCTORS that trains medical clowns, in cooperation with the ROAD TO PEACE organization and Hadassah Hospital in Jerusalem, with the support of the Israeli Foreign Affairs Ministry.
The organization, which helped bring the Yazidis to Israel, is intended to help build alliances between communities in conflict zones and assist in providing medical care to sick and wounded children.
The organization recently set up a child-care unit in Sinjar, northern Iraq, where thousands of Yazids and other minorities were murdered by ISIS in 2014. The organization is run by Sally Becker, a member of a Jewish family.