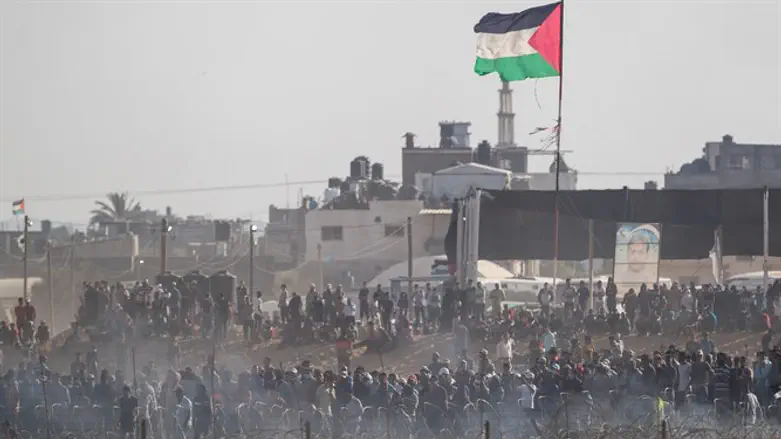 Riot on the Gaza border
Yonatan Sindel/Flash 90
A progressive Democrat in New York who called Israel's killing of violent protesters on the Gaza border a "massacre" scored a major upset over incumbent Rep. Joe Crowley in a contentious party primary.
Alexandria Ocasio-Cortez, 28, defeated Crowley, 56, by a margin of 58-42 percent in Tuesday's election, toppling a lawmaker who was viewed as the successor to Rep. Nancy Pelosi as speaker of the U.S. House of Representatives.
Ocasio-Cortez belongs to the Democratic Socialists of America and is a supporter of Sen. Bernie Sanders, a Vermont Independent who ran as a Democrat in the 2016 presidential primaries. New York's 14th District, which comprises parts of Queens and the Bronx, is overwhelmingly Democrat.
She tweeted on May 14, the day more than 60 rioters participating in the "March of Return" were killed on the border with Gaza: "This is a massacre. I hope my peers have the moral courage to call it such. No state or entity is absolved of mass shootings of protesters. There is no justification. Palestinian people deserve basic human dignity, as anyone else. Democrats can't be silent about this anymore."
She later said in an interview that her Puerto Rican roots helped her relate to the Palestinian Arab protesters.
In other elections, U.S. Rep. Jared Polis of Colorado, a five-term congressman from Boulder, won the Democratic Party's nomination for governor. He would be the first Jewish governor in Colorado and its first openly gay person to serve in the post. He will face off in November against Republican State Treasurer Walker Stapleton.
In Maryland, government whistleblower and former intelligence analyst Chelsea Manning lost in her bid to unseat two-term incumbent Democratic Sen. Ben Cardin. Manning and six others were challenging Cardin, who is Jewish, in the state's Democratic primary.
Also in Maryland, former NAACP President Ben Jealous won the Democratic primary for governor and will take on the Republican incumbent, Larry Hogan, in November. Sanders had endorsed Jealous and made appearances on his behalf.
In New York's 1st Congressional District, businessman Perry Gershon won the five-way Democratic primary for the right to run against Rep. Lee Zeldin, a strong supporter of Israel and of President Donald Trump. Zeldin is one of two Jewish Republicans in the Congress.