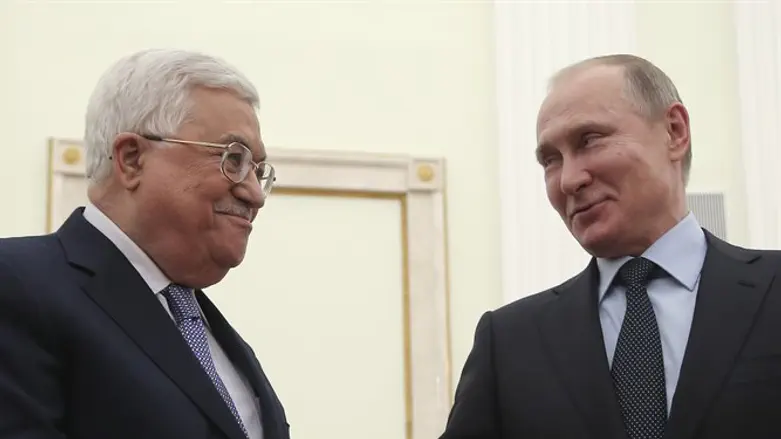 Abbas and Putin
Reuters
Palestinian Authority (PA) chairman Mahmoud Abbas is expected to meet Russian President Vladimir Putin in Moscow next month, the PA envoy to Russia Abdel Hafiz Nofal told the Sputnik news agency on Tuesday.
Nofal said Abbas will arrive in Russia on July 13 at Putin's invitation in order to attend the World Cup final.
"He is arriving on the 13th of July. As of today two main things that are on his schedule is to participate in the World Cup final and to meet President Vladimir Putin. We are in the process of finalizing details of when and how," Nofal said.
The report comes a day after sources close to Prime Minister Binyamin Netanyahu said he is also considering attending the World Cup finals after being invited by Putin.
So far there are no indications that Netanyahu and Abbas could meet face-to-face if both attend, but Putin has in the past expressed a willingness to host the two for a bilateral meeting.
Abbas has continuously chosen to impose preconditions on talks with Israel rather than heeding Prime Minister Binyamin Netanyahu's call to negotiate.
The PA leader met with Putin in February, two months after U.S. President Donald Trump recognized Jerusalem as Israel's capital. At the time, Abbas told Putin he could no longer accept the role of the United States as a mediator in talks with Israel because of Washington's behavior.