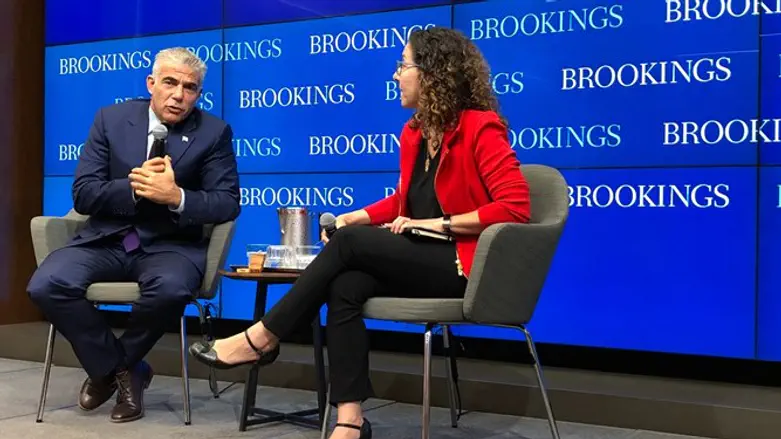 Lapid at Brookings Institute
Yesh Atid spokesperson
Foreign Affairs and Defense Committee Chairman and Yesh Atid leader Yair Lapid participated today (Monday) in a discussion on the Brookings Institute in Washington with Tamara Cofman Wittes, a senior fellow at the Brookings Institute's Middle East Policy Center.
Lapid said that his main goal in his visit was to promote the United States' recognition of Israel's sovereignty over the Golan Heights.
"I came to the United States to promote international recognition of Israel's sovereignty over the Golan Heights. I brought here a coin found in archaeological excavations in the Golan Heights. The coin dates back to 67 CE, from the revolt against the Romans before the destruction of the Temple with the inscription "For the redemption of Jerusalem." Historically, the Golan is ours. Strategically, the Golan is ours. But even those who do not recognize our sovereignty over the Golan agree that we cannot return the Golan Heights to those who murdered hundreds of thousands of its people," Lapid said.
He added that "recognition of the Golan Heights can be a perfect way for the US to say in deeds to Russia: You do not decide here on everything. To say in deeds to Assad: There is a price for what you have done against your people. To say in deeds to Israel: We support your struggle over the Golan and say in deeds to the Iranians that they have no place there. Think how awful it would be if we left this strategic place, which is the size of a medium-sized farm in Texas, to Assad. This is an opportunity for the world to say clearly that Israel will never withdraw from the Golan Heights."
Later this week, Lapid will meet with members of Congress and senators from both parties, Democrats and Republicans. Among other things, MK Lapid will meet with Ted Deutsch, Tom Cotton and Elizabeth Warren.
He is expected to meet next week with House Minority Leader Senator Nancy Pelosi, with Sen. Lindsey Graham, who led the Taylor Force Act, which stipulates that US aid to the Palestinian Authority should be cut as long as the PA continues to make payments to terrorists. Lapid will also meet with Representative Peter Roskam, who is leading legislation that will put economic pressure on Iran, and with Senate Bob Corker, Chairman of the Senate Foreign Affairs Committee
The current visit to the United States is part of a comprehensive campaign led by Lapid under the slogan "The world with the Golan."