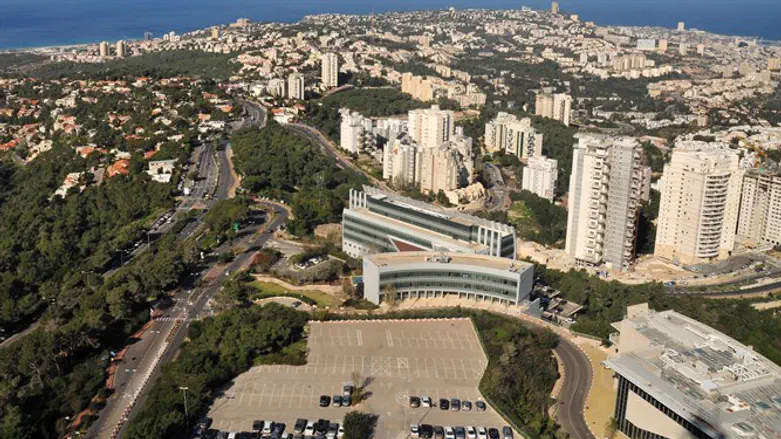 Haifa University
Flash 90
University of Haifa has been awarded the first-ever tender to be established by Israel's Ministry of Defense.
The University will grant academic degrees to Israel Defense Forces (IDF) officers in all three military colleges – the Tactical Command College, the Command and Staff College, and the National Defense College.
The studies, which are set to begin in July 2018, will bring hundreds of officers, commanders and senior figures in the public sector to University of Haifa in the coming years.
The "Colleges Tender" was created as the result of an initiative by the commanders of the military colleges in the "Glilot" Base to combine all academic studies provided by military colleges under the academic responsibility of a single university. This will enable consistency in the long-term academic qualifications of IDF commanders and improve the academic education that they acquire in parallel with military courses.
The Tactical Command College is intended for company commanders. At the end of their studies, they will receive a BA from the Department of Interdepartmental Studies and an additional elective from the following list: Economics (Business Administration track), Political Science, Communications, Computer Sciences, Psychology and Education.
The Command and Staff College – which, in recent years, did not grant a master's degree – trains battalion commanders and Israel Air Force squadron commanders, and provides an MA in Political Science with a major in Armed Forces and Security.
The National Defense College – where students have already received an advanced education from University of Haifa – will provide training to the command level of the IDF (officers with the ranks of Colonel and Brigadier General), as well as the heads of various government ministries in Israel. National Defense College graduates will receive an MA in Political Science (National Defense track).
In preparation for the July opening, the University is preparing to establish a special administrative unit in charge of the programs, associated with the Office of the Rector. This multidisciplinary academic system will include dozens of lecturers from the University and external content experts, in order to provide optimal training to IDF commanders for future generations.
University of Haifa President Prof. Ron Robin, stated: "The award of the tender holds University of Haifa responsible for the academic education of the Israel Defense Forces' core of command for the coming years."
"We are proud to open our doors to the members of the Israel Defense Forces and to be the academic home of Israel's defense and security forces. These men and women, who are dear to our hearts, operate day and night for the sake of the defense and security of the State of Israel, and we will provide them educational content of the highest standard."