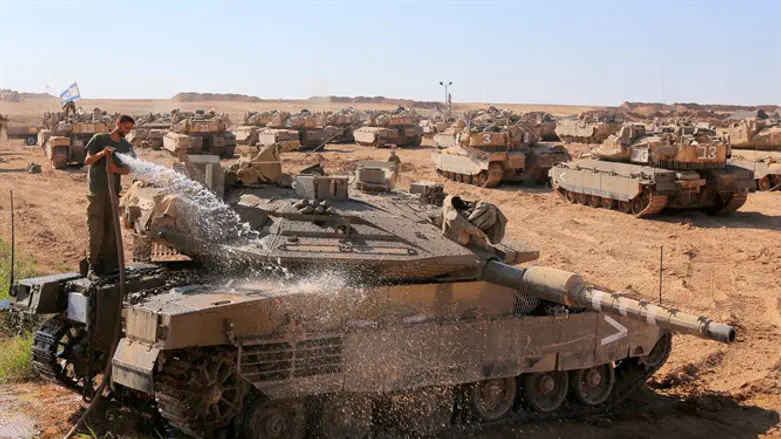 Tanks near Gaza border
Flash 90
Israel is prepared for a major ground operation in the Gaza Strip, security officials said Wednesday, if Hamas continues to escalate tensions along the border.
Overnight, terrorists operating out of the Strip fired 45 rockets and mortars at Israeli towns in the western Negev.
At least three of the rockets exploded in Israeli towns in the Eshkol Regional Council near the border.
While there were no reports of injuries, several buildings sustained damage in the attacks.
One of the rockets landed next to an Israeli kindergarten.
The attacks escalated an already tense situation along the Israel-Gaza border.
From March 30th through early June, thousands of rioters gathered almost daily opposite the Israeli security fence, clashing with Israeli soldiers and attempting to breach the border.
In recent weeks, the rioters have shifted from direct clashes with IDF personnel to arson attacks using "terror kites" and incendiary balloons armed with improvised explosive devices and firebombs.
Terrorists in the Gaza Strip have launched thousands of the balloons and kites into Israeli territory, causing millions of dollars in property damage.
Overnight, Israel Air Force fighter jets struck Hamas targets across the Gaza Strip in retaliation for the recent attacks and wave of arsons.
Senior IDF officials say Israel is prepared for further escalations, including a possible ground operation inside of Gaza, if Hamas continues the attacks.
"The army is ready for a wide-reaching operation inside of Gaza if Hamas continues to create new rules [in the conflict]," IDF sources said, according to a report by Channel 2 on Wednesday.
The statement comes shortly after senior security officials, including IDF Chief of Staff Gadi Eizenkot, held a briefing on the security situation along the Gaza border, following last night's rocket attacks and Israel's airstrikes.
The briefing emphasized Israel's military readiness for a major operation should Hamas not clamp down on the attacks.
"If Hamas thinks that Israel will hesitate to enter [the Strip] for a conflict, it is mistaken," an official said during the briefing."