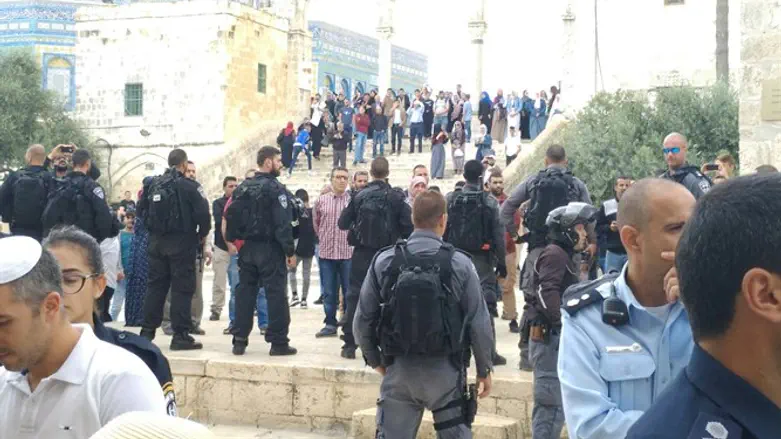 Temple Mount
Eitan Cohen/TPS
An Israeli police station on the Temple Mount has been removed, following meetings between Jordan's King Abdullah II and Israeli Prime Minister Binyamin Netanyahu, and with US envoys Jared Kushner and Jason Greenblatt.
The police station, which had been recently opened on the Mount, was situated near a sensitive archeological site not far from the Al-Aqsa Mosque. The Supreme Court has ordered that no unsupervised work take place at the site, given the presence of antiquities there.
Israel increased its police presence on the site after Arabs were filmed conducting illegal construction work during the recent Islamic holy month of Ramadan, while the Temple Mount was closed to Jews.
But less than 48 hours after Prime Minister Binyamin Netanyahu met with King Abdullah, and following the Jordanian leader's meeting with the two US envoys, Israel scrapped the station.
Sources close to the Jordanian Waqf claim that the police station on the Mount was removed due to the Jordanian government's intervention. The move, they said, would give them a free hand in monitoring and regulating the behavior of non-Muslim visitors to the Mount.
Jordan, which occupied Jerusalem from 1948 until June, 1967, was recognized by the local Muslim community as the custodian of Islamic holy sites in Jerusalem as far back as the 1920s – a status Israel acknowledged in the 1994 peace treaty with the Hashemite Kingdom.
The Temple Mount is administered by the Waqf, a Jordan-based Islamic trust.
In response to the report, Israel Police issued the following statement: "Despite the claims by the Waqf, there has been no change to the policy of Israel Police regarding its role in law enforcement and keeping the peace. The claims are false, and are the responsibility of those who made them."