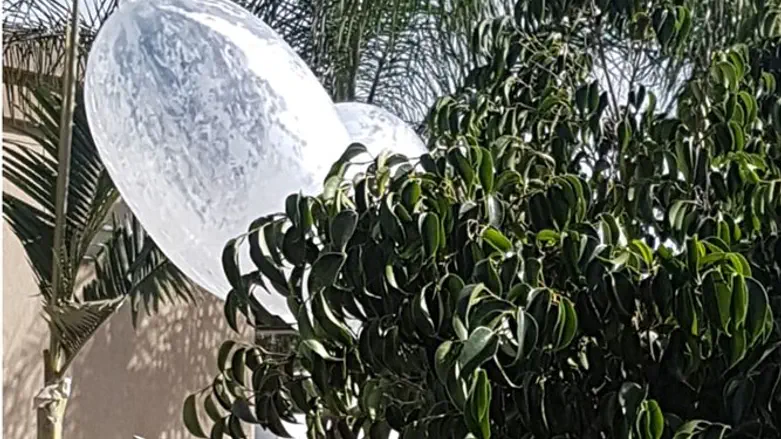 Incendiary balloons
Police spokesperson
Two incendiary balloons launched from the Hamas-ruled Gaza Strip landed in in an Israeli town near the border, damaging a home.
The balloons were discovered Sunday, following a wave of incendiary balloon and 'terror kite' attacks by Gaza terrorists.
In recent weeks, terrorists have launched balloons and kites rigged with improvised explosive or incendiary devices, sending them into Israeli territory.
Millions of shekels of property, including farm lands near the border, have been destroyed in the attacks.
On Sunday, two incendiary balloons were found in a town in the Shaar HaNegev Regional Council in the western Negev, near the Gaza border.
Police sappers were dispatched to remove the devices, which had landed on a private home.
The incendiary balloons caused damage to the home, and forced the evacuation of the surrounding area.
Authorities warned residents near the Gaza Strip to avoid any suspicious objects, and to report them to police immediately.
"We again call on the public not to touch any suspicious object, and to report any object which arouses suspicion to the police 100 call center," a police spokesperson said.
IDF forces opened fire Sunday on several groups of terrorists spotted launching incendiary balloons.
Three fires sparked by incendiary devices are currently raging inside Israeli territory near the Gaza Strip.