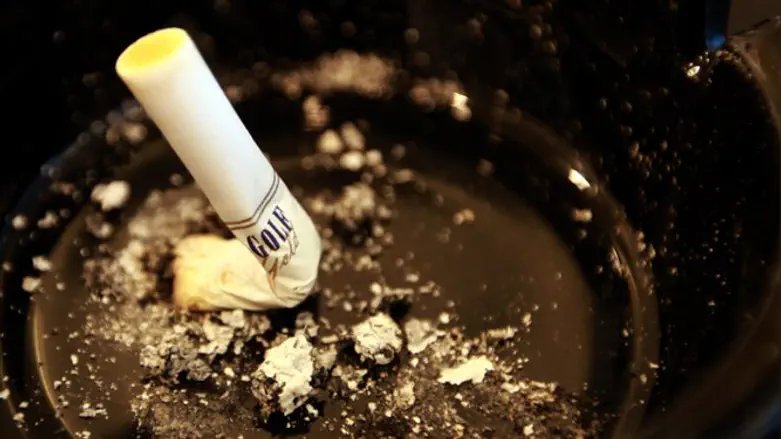 Smoking (illustrative)
Nati Shoshat/Flash90
The Knesset's Labor, Welfare, and Health Committee on Wednesday morning approved the Order to Prevent Smoking in Public Places and Exposure to Smoking, which expands the list of places in which smoking is prohibited.
Likud MK Yehuda Glick's suggestions were added to the order proposed by Health Minister Yakov Litzman (UTJ). In all of these locations, smoking is prohibited except in a defined area located at least ten meters (32.8 feet) away from the building's entrances and exits.
Smoking will also be forbidden at all events organized by the Israeli government and which take place in a defined area. This includes events organized by government bodies such as courts, rabbinic courts, local councils, and religious councils.
With regards to the Knesset itself, Glick came to an agreement with the Knesset's Director-General that despite the fact that the current order does not apply to the Knesset, the Knesset will nevertheless close all smoking rooms in the building, other than one near the main meeting room. Smoking areas outside the building will be minimized, the prohibition against smoking in other areas will be enforced, and no-smoking signs will be added.
The new order will be applied within 60 days.
"Today, we bring Israel's citizens good news which saves lives," Glick said. "This is one more step in the process. We will continue, and we will not give up in our quest to save people's lives."
Approximately 800 of the 8,000 Israelis who die annually due to smoking-related illnesses are victims of secondhand smoke.