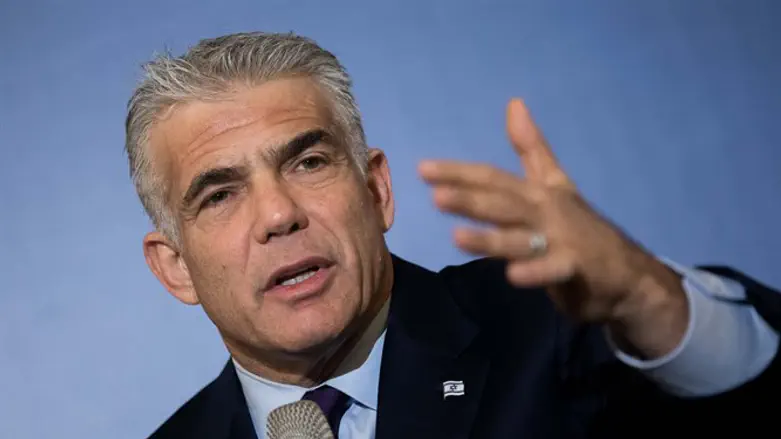 Yair Lapid
Flash 90
After a string of mortar attacks on Israeli towns near the Gaza border, Israeli lawmakers called on foreign leaders to condemn the attacks and hold the terrorists behind them responsible.
On Tuesday morning, terrorists operating out of the Hamas-ruled Gaza Strip fired dozens of mortar shells at Israeli towns near the Gaza frontier.
While the Iron Dome missile defense system intercepted some of the mortars, a number of shells landed in Israeli territory, including one which exploded next to a kindergarten in the Eshkol region.
Following the attacks Tuesday morning, Israel's Foreign Ministry tweeted a statement in response to the mortar fire, hinting that Israel would respond to the provocation.
"The shooting of rockets this morning from #Gaza, one of them landing in the yard of an empty kindergarten (!), demonstrates the grave danger #Hamas represents to Israeli civilians. No country would or should accept such threats to its civilian population. Neither do we."
Former Finance Minister MK Yair Lapid (Yesh Atid) also responded to the attacks via Twitter Tuesday morning, saying that the IDF would use "necessary force" in Gaza, while calling on foreign leaders to condemn the terrorist attacks.
"The attack on the #Gaza region will not go unanswered. The #IDF will respond with the necessary force. I expect to hear clear condemnations from across the world of this attack on a civilian population. Our hearts are with the residents of the south."
Sirens were also sounded in the region Monday night, after several buildings and vehicles in the city of Sderot were hit by gunfire emanating from the Gaza Strip. There were no injuries reported.
Monday's incident marked the second time this month Sderot has been struck by machine gun fire from Gaza. On May 16, six houses in Sderot were damaged when terrorists opened fire at an Israel aircraft.
Zionist Union MK and former Defense Minister Amir Peretz, a resident of Sderot, called on the IDF to punish Hamas for the recent string of attacks.
"The [mortar] fire this morning is a serious escalation, the worst since Operation Defensive Edge [in 2014]. The IDF must respond more forcefully than before."
"It doesn't matter if it was Hamas or Islamic Jihad [that fired the mortars], Hamas governs the Strip, and it must pay the price."
Watch: Iron Dome missile defense system targets incoming mortar shells.