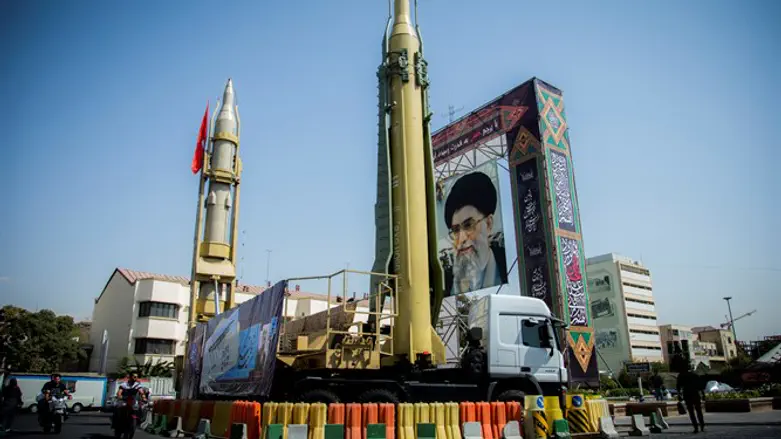 Display featuring missiles and portrait of Iran's Supreme Leader Khameni
Reuters
Prime Minister Netanyahu spoke this morning at the opening of the weekly cabinet meeting about the death of the "Duvdevan" soldier who was critically injured during an operation last week.

"Today we express deep sorrow over the death of Staff Sergeant Ronen Lubarsky. Duvdevan is an important unit that contributes a great deal to Israel's security," Netanyahu said.

Later, Netanyahu attacked Iranian involvement in regional conflicts. "The regime in Tehran is the main factor undermining stability in the Middle East, and the campaign against its aggression is not over."
"We are acting against the transfer of lethal weaponry from Syria to Lebanon or its creation in Lebanon. This weaponry is meant [to be used] against the State of Israel and it is our right by virtue of self-determination to prevent its creation or transfer."

The prime minister told the ministers that he spoke this weekend with US Secretary of State Mike Pompeo about the Iranian nuclear program and the Iranian foothold in Syria.

"I told him that I thank him for the approach that the United States is presenting to Iran," Netanyahu said.