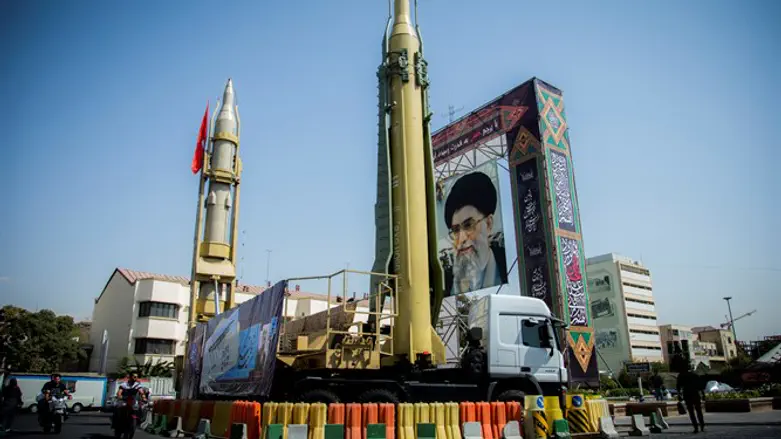 Display featuring missiles and portrait of Iran's Supreme Leader Khameni
Reuters
A California weapons research team has discovered evidence that Iran continues to develop advanced missiles at a secret facility, the New York Times reported Wednesday.
An analysis of satellite images by the non-partisan Middlebury Institute of International Studies showed that the facility's activity is focused on the development advanced rocket engines and rocket fuel, and that the activity is often carried out under cover of night.
The facility is named the Shahrud Facility and is located about 250 miles east of Tehran.
The discovery rekindled fears of Tehran's intentions to develop intercontinental ballistic missiles (ICBM) capable of reaching far beyond the Middle East. Such plans were thought to have experienced a major setback when a previous facility exploded in 2011.
Several experts who reviewed the intelligence expressed concern over the evidence that Iran is continuing to develop long-range ballistic missiles. Michael Elleman, a missile expert at the International Institute for Strategic Studies, called the evidence "disturbing."
The work done at the facility could be the beginning of Tehran's plans for "developing an ICBM five to 10 years down the road, should Tehran wish to do so," Elleman told the Times.
The work on ICBMs would not violate the 2015 Iran nuclear deal which US President Donald Trump withdrew from this month.