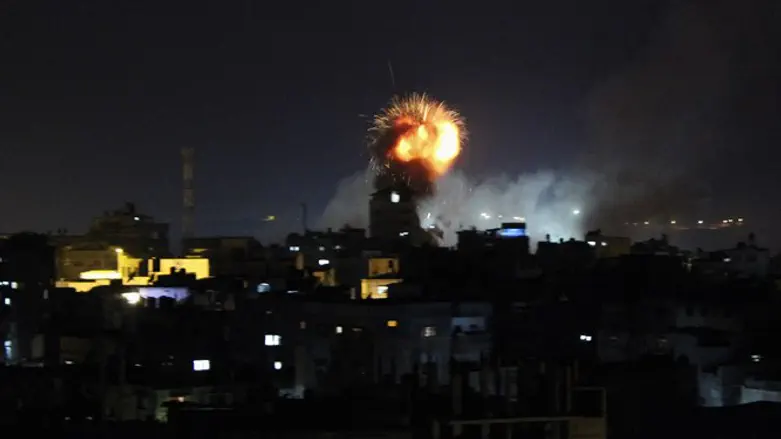 Airstrike in Gaza (archive)
Reuters
IAF aircraft on Tuesday night struck underground Hamas terror infrastructure in northern Gaza, as well as two additional military targets that belong to the terror organization's naval force, the IDF Spokesperson's Unit said.
"The strikes were in response to the event that took place yesterday morning, when a number of terrorists infiltrated Israel and set a military post on fire," said the statement.
"Additionally, the strikes were carried out in response to the ongoing attempts to dispatch drones and kites, with the intention of conducting terrorist activity and setting Israeli territory on fire."
The statement noted that the IDF "views these continued attempts with great severity, specifically Hamas' daily attempts to damage Israeli security infrastructure and threats to the safety of Israeli civilians. The IDF is determined to fulfil its mission to protect Israeli civilians. The Hamas terror organization is accountable for all threats originating from the Gaza Strip, above and below ground, and will bear the consequences for its actions against Israeli civilians and Israeli sovereignty."
Defense Minister Avigdor Liberman (Yisrael Beytenu) tweeted Wednesday morning, "Last night, the IDF destroyed another terror tunnel belonging to the Hamas terror organization."
"The attempts to attack Israel from the air, via the border fence, and underground will be blocked by an iron wall and by the IDF's might. It would be well if the Hamas leaders understood that their military project is a failure, and invest their resources in bettering the lives of Gaza's citizens."
Palestinian Arab media reported earlier that the IDF attacked two naval police installations in Gaza.
According to the reports, explosions were heard west of Gaza City and a fire broke out.
Some of the reports said that the facilities were attacked with three missiles, one from the water and two from the shore.
On Tuesday morning, a number of suspects infiltrated Israel from Gaza and set a military post on fire.
In response, an IDF tank targeted a Hamas observation post in southern Gaza. No injuries were reported.
The Al-Jazeera network later on Tuesday published a video showing the infiltration by the Palestinian Arab terrorists, who had crossed the border fence south of Kissufim.