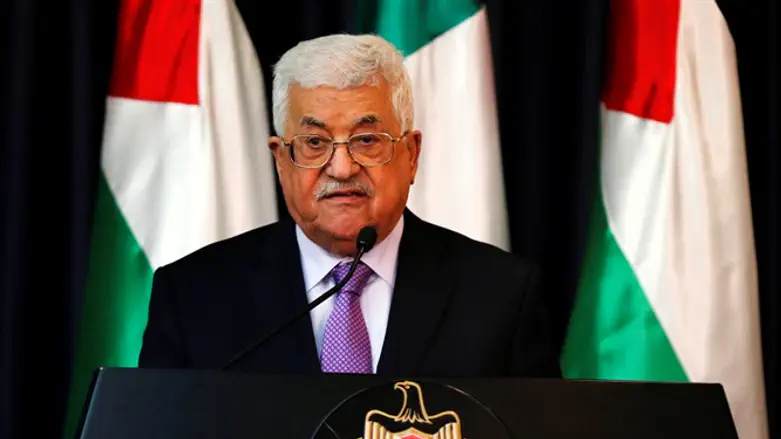 Abbas
Reuters
Palestinian Authority chairman Mahmoud Abbas appeared in photographs with a cartoon depicting Israeli soldiers as child murderers.
Arab cartoonist Muhammed Sabaaneh drew a cartoon in which an Israeli soldier takes a milk bottle from a baby and replaces the bottle with poison. The cartoon was published by the PA newspaper Al-Hayat Al-Jadid.
The PA published several photographs of Abbas to dispel rumors about his failing health which have arisen in light of his hospitalization. In one of the photographs, Abbas can be seen reading Al-Hayat Al-Jadid and prominently displaying the cartoon towards the camera.
The cartoon relates to the death of eight-month-old Laila Ghandour, who was brought last Monday to the "March of Return" riots last Monday and died. Initial reports from the Hamas-run Gaza Health Ministry claimed that the child had died from tear-gas inhalation. However, the IDF found no evidence of the incident, and a doctor in Gaza claimed that she died from a pre-existing medical condition,
Abbas has been hospitalized with pneumonia following an ear operation last week. He has been in the hospital for three days, and there is currently no time-frame for his discharge from the hospital.