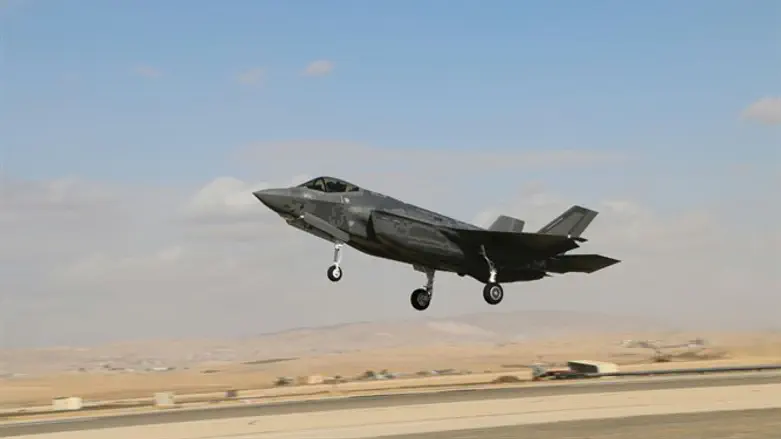 F35
IDF Spokesperson
The commander of the air force, Maj. Gen. Amikam Norkin, spoke Tuesday morning at the air force commanders' convention in Herzliya.

Norkin said that "Syrian anti-aircraft fired, on the night of our attacks in Syria two weeks ago, more than 100 missiles at our aircraft; The Iranians fired 32 rockets at Israel, four of them were intercepted and the rest fell outside Israel's territory. "
Norkin noted that "The IDF's aerial defense systems, David's Sling, and Iron Dome have 85% success rates."
He also revealed that "The [F-35] Adir planes are already operational and flying in operational missions. We are the first in the world to use the F-35 in operational activity."
Addressing the recently-demolished Hamas terror tunnel, Norkin told the 20 air force commanders present that "The Hamas tunnel that we attacked and destroyed from the air was dug at a depth of 20 meters [65 feet]."
The commander of the air force was speaking at a special conference attended by air force commanders from various countries around the world. The International Air Force Commanders' Conference is considered one of the flagship events within the framework of the Air Force's 70th-year events.

The conference, which was planned for about a year, continues for three days, during which air force commanders from about 20 different countries convene, hosted by the Israeli Air Force. The conference includes lectures, tours, strategic discussions and joint air training.

"The conference is of great importance and influence on the air force, the IDF and the State of Israel," the IDF said, adding that the conference "reflects the military cooperation between the air force commanders and the countries and serves as a bridge for cooperation and a place for strengthening diplomatic relations between the countries."
חילות האויר של העולם - בישראל
דובר צה"ל