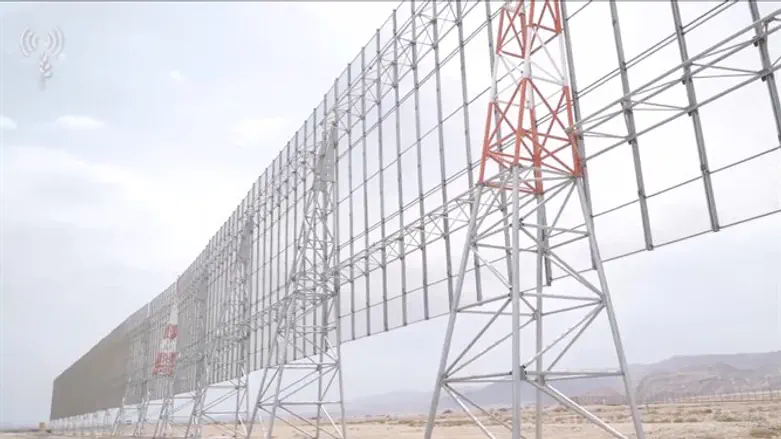 fence around Ramon International Airport
IDF Spokesperson
The IDF is preparing to protect the Ramon International Airport, which will be opened in the Arava desert in the south.
The airport is named for Ilan Ramon, an Israeli pilot who participated in the bombing of the Iraqi nuclear reactor in Osirak in 1981 and who was killed when the Space Shuttle Columbia disintegrated upon reentry in 2003, and his son Assaf, who was killed in an IAF training accident in 2009.
A senior IDF officer explained that although the eastern border of the State of Israel is relatively quiet, the establishment of a new international airport requires that a range of security arrangements be made to safeguard the airport.
Even the security fence around the airport experienced complications. In order to build the fence, the IDF had to work to clear the mines in the area, which was carried out in cooperation with the IDF's Engineering Corps and continued for a long time. The fence stretches for 34 km along the border.
The area was excavated to a depth of 60 cm below the ground to ensure that no mines remained in the area.
"The fence will protect the field from the firing of rockets and ground-based missiles," says the officer, "and it is an innovative and unique invention by the director of the fences, headed by Brigadier General Eran Ophir, who formulated the idea in light of the divisions needs."
In order to provide a response to terrorist activity in the sector, the Division has many additional layers of defense, including an external envelope, an internal defense envelope under the responsibility of the Israel Police, and a reserve staff from the General Staff of the Givati ​​Brigade, who are all ready to assist should a security event occur.
כך יאובטח נמל התעופה "רמון"
דובר צה"ל