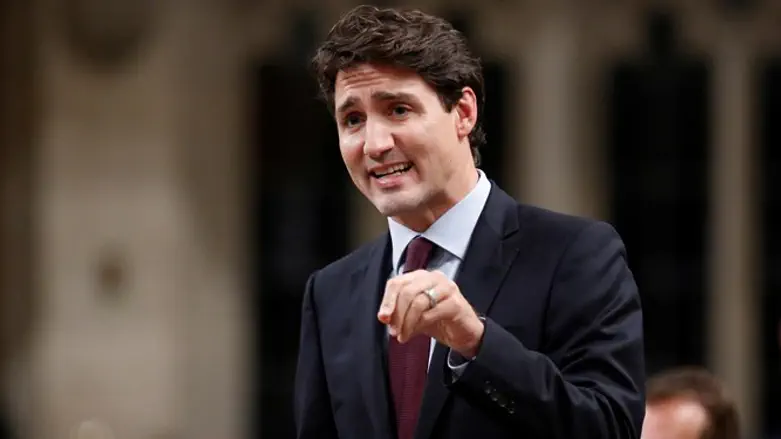 Justin Trudeau
Reuters
Canadian Prime Minister Justin Trudeau on Wednesday called for an independent probe of the violence along the Israel-Gaza border after a Canadian doctor was among those injured in the clashes.
Trudeau did not specifically call out Israel over the violence, but also did not mention Hamas's role in encouraging the riots.
"Canada deplores and is gravely concerned by the violence in the Gaza Strip that has led to a tragic loss of life and injured countless people. We are appalled that Dr. Tarek Loubani, a Canadian citizen, is among the wounded – along with so many unarmed people, including civilians, members of the media, first responders, and children," he said.
"We are doing everything we can to assist Dr. Loubani and his family, and to determine how a Canadian citizen came to be injured. We are engaging with Israeli officials to get to the bottom of these events," continued Trudeau.
"Reported use of excessive force and live ammunition is inexcusable. It is imperative we establish the facts of what is happening in Gaza. Canada calls for an immediate independent investigation to thoroughly examine the facts on the ground – including any incitement, violence, and the excessive use of force," he said.
"Canada stands ready to assist in such an endeavor. We will work closely with our international partners and through international institutions to address this serious situation," concluded Trudeau.
Israel and the United States have maintained that the IDF acted with restraint at the Gaza border when faced with attempts to storm the border and attacks. At various points during the riots, IDF soldiers were attacked with guns and various explosives, including grenades, pipe bombs, and firebombs.
Earlier on Wednesday, a senior member of Hamas admitted that most of the 62 Gazans killed by Israeli fire during the border protests and clashes were members of the Islamist group.
Trudeau's remarks were criticized by Canadian Jewish organizations which pointed out that he had unfairly condemned Israel while failing to call out Hamas for inciting the violence.
The Canadian Friends of Simon Wiesenthal Center (FSWC) said it was "disappointed" by the strong and unbalanced statement issued by Trudeau.
"The prime minister's statement does not condemn Hamas for inciting violence and its armed struggle to invade Israel. Hamas, recognized by Canada as a terrorist group, is determined to enter Israel in order to harm civilians by breaching the security fence and through tunnels," it said.
"While we despair about loss of life, Canada should steadfastly condemn Hamas for inciting violence and for attempting to enter a sovereign nation to carry out terrorism. It's disappointing that our prime minister did not condemn Hamas in his statement," said Avi Benlolo, President and CEO of FSWC.
"Israel shares Canada's values of freedom, democracy and human rights. Friends of Simon Wiesenthal Center for Holocaust Studies will continue promoting a peaceful conclusion to this conflict, including a two state solution. We look to Canada to be an honest broker in this process and to support the safety and security of Israeli citizens," he added.
Similarly, the Centre for Israel and Jewish Affairs (CIJA) criticized Trudeau's statement, saying it requested an urgent meeting with the Prime Minister to convey the Jewish community's concerns about this issue.
"We are deeply disappointed the government's statement ignores Hamas' direct responsibility for recent violence on the Israel-Gaza border. This contradicts the government's long-stated position that, as a close ally and fellow liberal democracy, Israel can count on Canada's support when its security is threatened. It also disregards Hamas' claim today that 50 of 62 fatalities in the latest attempts to breach the border were Hamas members," said CIJA CEO Shimon Koffler Fogel.
"Hamas has left Israel no choice but to use force to protect the tens of thousands of Israelis who live close to Gaza. We are outraged and saddened that Hamas is again using civilian human shields. For Israelis and the Jewish community, Palestinian casualties are painful tragedies. For Hamas, Palestinian casualties are sickening public relations achievements. Shifting the blame to Israel risks encouraging Hamas to further fuel violence, make peace harder to reach, and impose additional hardships on Gazans – who are the primary victims of Hamas' tactics," he added.