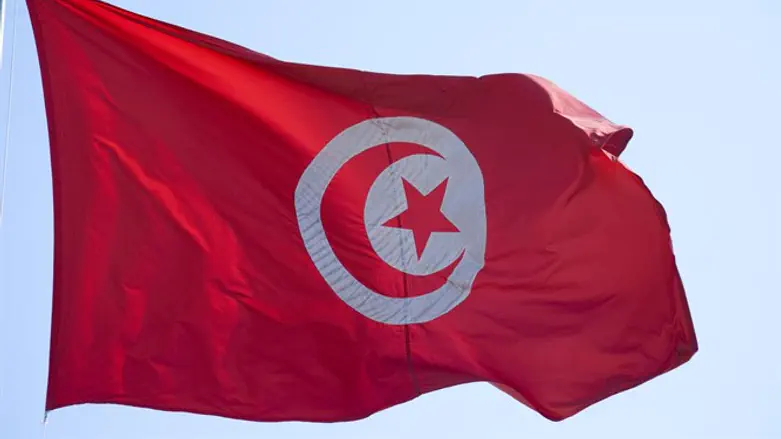 Flag of Tunisia
iStock
The head of the Liberal Tunisian Party recently opined that his country should normalize ties with Israel, saying that doing so was in its best interest.
The lawmaker, Mounir Baator, made the comments in a televised debate with Tunisian MP Ammar Amroussia, who ripped up an Israeli flag during a parliamentary session to push his demands for a law criminalizing relations with Israel.
The debate aired on Tunisna TV on April 19 and was translated by the Middle East Media Research Institute (MEMRI).
During the debate, Baator defended his party against Amroussia's accusations that they were a "fifth column" within Tunisia, "mercenaries fighting alongside the enemies."
Baator rejected TV host Walid Zribi's suggestion that normalization of ties with Israel constituted treason, and said that normalization was in Tunisia's best interests in terms of economy and international relations and that the country's real problems were social and economic and did not pertain to the Palestinian issue.
"How was Israel affected by the tearing up of its flag? It was a meaningless gesture with no impact. He took an A4 sheet of paper and tore it up. It was nothing but a show. Why didn't you tear up the American flag?" he said.
He explained that "we are calling for normal economic relations with all countries. We believe that enmity toward Israel and love of the Palestinian cause are not Tunisia's real problems today. Tunisia's problems are social and economic."
"Whether or not you tear up the flag of the Zionist entity... By the way, it is called the State of Israel, not the Zionist entity. The State of Israel exists, it is a member in the United Nations and in all the international organizations, and its flag flies everywhere. So whether or not you tear it up is immaterial to Israel," he added.
Tunisia, like most Arab countries, does not have diplomatic relations with Israel.
In 1996, Tunisia and Israel opened interest sections in each other's country, but Tunis froze relations in 2000 in protest against Israel's response to the Second Intifada.
In 2014, Tunisia's tourism minister faced criticism from parliamentarians over a trip to Israel she took in 2006 to take part in a UN training program for Palestinian Arab youths.
She, along with another minister, also faced censure later that year after being accused of promoting "normalization" with Israel. Those motions were withdrawn.
Last year, Tunisia banned the film "Wonder Woman" which stars Israeli actress Gal Gadot, because Gadot had defended Israel's counterterorism Operation Protective Edge on Facebook.