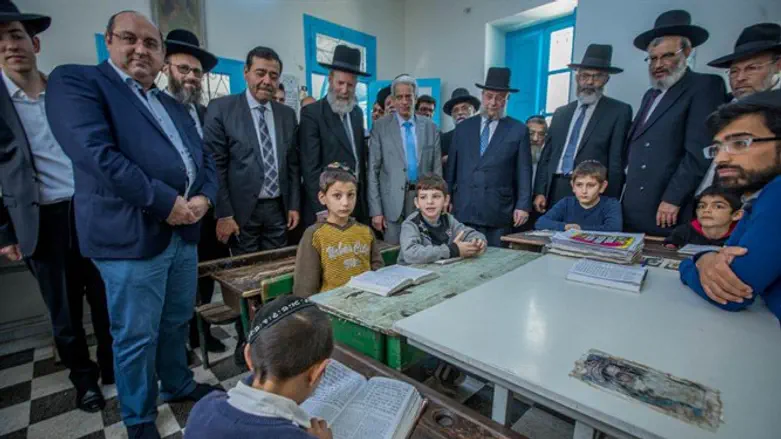 Cheder in Tunis Jewish community
Eli Itkin
A delegation of the Conference of European Rabbis, rabbis from Israel, and heads of Jewish organizations visited Tunisia last weekend.
The rabbis were invited by the Tunisian government to strengthen the Jewish community, the Rabbi of Tunisia Rabbi Haim Bitan, and cooperation between Jews and Muslims in the war against Islamic terror.
The rabbis received a royal reception and hospitality from the Tunisian Tourism Ministry. Many policemen secured the delegation and each trip was carried out in convoy and coordinated with the security forces in the country.
The visit was initiated by rabbis in the large Jewish quarter of the island of Djerba, populated entirely by observant Jews. The rabbis walked through the streets of the neighborhood as all the residents came out to greet them, offering refreshments and thanksgiving to the rabbis for the encouraging visit.
The rabbis also came to the local Talmud Torah and the local Heder where studies are conducted according to the Jewish tradition of Djerba. Afterwards, the rabbis arrived at the Kanfei Yonah girls' school.
The rabbis experienced a great deal of excitement during a visit and Mincha prayer in the ancient synagogue of Al Ghriba in the neighborhood. In the synagogue that was rebuilt some ten years ago, there is a stone that lies in a cave beneath the surface that is attributed to the exiles of Israel after the destruction of the First Temple.
ועידת רבני אירופה בתוניס
אלי איטקין
Before the Sabbath began, the rabbis witnessed a unique tradition that takes place in Djerba from the days of the Talmud, according to which each family brings the pot of Shabbat cholent stew to a central place in the village and places it in the oven. About half an hour before the start of the Sabbath, a Tunisian rabbi climbs to the roof of his house and announces with a blowing of the shofar the arrival of the Shabbat Queen.
During Shabbat an in-depth discussion was held between participants on the topic Between Israel and the Diaspora, moderated by the Media Advisor of the Conference of European Rabbis, Moshe Friedman. On Saturday night, the Tunisian Religious Affairs Minister wished to tell the rabbis, "Tunisia is a country that respects religions," and stressed that "the Tunisian people live in solidarity with the Jews."
On Sunday, the rabbis went to the Tunisian capital Tunis and visited the great synagogue operating all week long. The chief rabbi's aide spoke with great emotion about the history of the synagogue, the collection of ancient Torah scrolls, and Jewish life in the capital of Tunisia.
In the afternoon, the rabbis prayed in the graves of the Tunisian sages buried in the ancient "Bergol" cemetery.
"The Muslims are our partners in the fight against Islamic terrorism, Muslim extremism, and institutional anti-Semitism in Europe. And we are fighting together against anti-religious legislation in Europe," said Rabbi Pinchas Goldschmidt, president of the Conference of European Rabbis and rabbi of Moscow, in a speech to hundreds of Muslims.
credit: אלי איטקין
credit: אלי איטקין
credit: אלי איטקין
credit: אלי איטקין
credit: אלי איטקין
credit: אלי איטקין
credit: אלי איטקין
credit: אלי איטקין
credit: אלי איטקין
credit: אלי איטקין
credit: אלי איטקין
credit: אלי איטקין
credit: אלי איטקין
credit: אלי איטקין
credit: אלי איטקין
credit: אלי איטקין
credit: אלי איטקין
credit: אלי איטקין
credit: אלי איטקין
credit: אלי איטקין