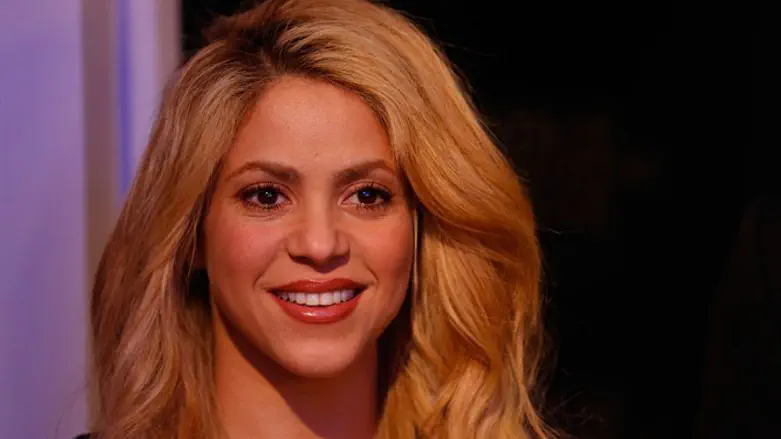 Pop singer Shakira
REUTERS
Columbian-born pop star Shakira has booked her first ever show in Israel, brushing off warnings that the move could make her the target of anti-Israel activists from the Boycott, Divestment and Sanctions movement.
The 41-year-old singer, who has sold over 170 million records worldwide, visited Israel in 2011 at the invitation of then-President Shimon Peres. Shakira did not, however, perform, and despite a large following, has never held a concert in the Jewish state before this year.
The concert, scheduled for July 9th, will be held at the Yarkon Park, in Tel Aviv.
The granddaughter of Lebanese immigrants on her father's side, Shakira in 2011 expressed her "great affection" for Israel in an interview with AP.
"I'm very proud of my Lebanese heritage," Shakira said, "but it has nothing to do with the fact that I respect and have great affection for this country and the people of this country, both Israelis and Palestinians, and that's why I'm here."
According to a report by Hadashot, Shakira will likely face pressure from the BDS movement to nix the concert, though Jerusalem Online claimed the singer was aware of the possible backlash and have vowed it would not affect her plans.
In December, New Zealand pop singer Ella Marija Lani Yelich-O'Connor – better known by her stage name, Lorde – backed out of a concert in Israel planned for June, after she received criticism from anti-Israel activists.
"I pride myself on being an informed young citizen, and I had done a lot of reading and sought a lot of opinions before deciding to book a show in Tel Aviv, but I'm not too proud to admit I didn't make the right call on this one. Tel Aviv, it's been a dream of mine to visit this beautiful part of the world for many years, and I'm truly sorry to reverse my commitment to come play for you. I hope one day we can all dance," said Lorde.