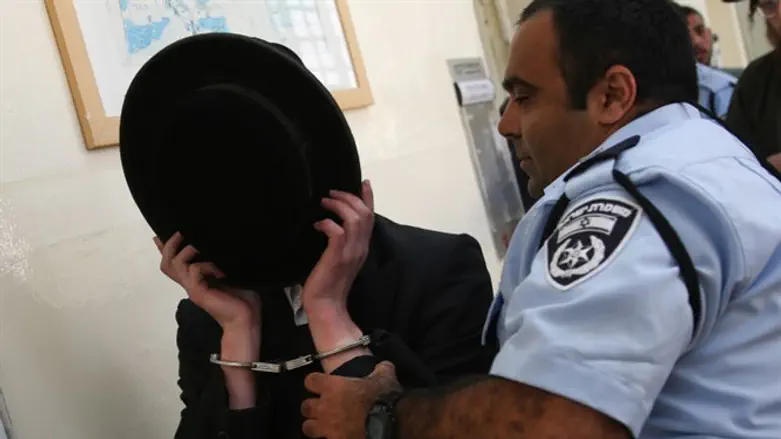 Police arresting haredi man (illustration0
Hadas Parush/Flash90
The Jerusalem District Court convicted nine haredim on Sunday for defrauding the State of Israel out of millions in what the judge described as a "wide-ranging, sophisticated, and organized campaign of deception".
According to the indictment, the men inflated the number of students enrolled in the educational institutions belonging to the 'Matmidim' community in Jerusalem in order to accept NIS 24 million in benefits. The group had established fictitious NGO's which appeared to be working independently in each other but were, in reality, a mechanism for funneling the ill-gotten gains to the suspects.
The defendants also printed thousands of counterfeit identity cards in order to fool inspectors from the Educational and Religion Ministeries and purchased private buses in order to quickly transport hundreds of students to the Yeshiva in case of a surprise inspection. The indictment described how the Yeshiva routinely changed its address to make it hard for officials to locate and constantly monitored inspectors in order to discourage raids.
The nine men were convicted of bribery, tax evasion, money laundering, and forgery.
In his ruling, Judge Ram Vinograd painted a picture of a sophisticated and organized scheme which managed to successfully fool Ministry of Education inspectors for years. "The picture emerges from all this is the systematic and sophisticated scheme whose sole purpose is to create a smokescreen that camouflaged their deceitful actions from the Ministry of Education," wrote Vinograd.
"Those who persisted did everything in their power to prevent a situation in which a surprise inspection was conducted, by constantly changing the addresses, making it difficult to carry out the audit in the first place, gathering information about the inspections by receiving information from others and by monitoring inspectors," added Vingrad.
According to Reut Katz, who heads the district attorney's financial crimes unit, the haredi community's refusal to cooperate with authorities made the investigation particularly challenging.
"The verdict conveys a clear and unequivocal message that the actions of those who have received the state and fraudulently received money at the expense of other bodies acting lawfully should be denounced," said Katz, who added that it was the largest fraud ever uncovered in Israel's history.
Police are currently investigating a similar case in Beit Shemesh. In December, authorities arrested 12 rabbis for allegedly creating a fictitious yeshiva and registered 150 students in order to receive government funding in the form of Education Ministry stipends and scholarship funds. The suspects allegedly pocketed over NIS 1,000,000 ($287,000).
During a routine inspection, Education Ministry officials found a pile of rubble at the address given for the yeshiva. The officials filed a complaint with the police and undercover detectives, who discovered that the yeshiva and its 150 students did not exist.