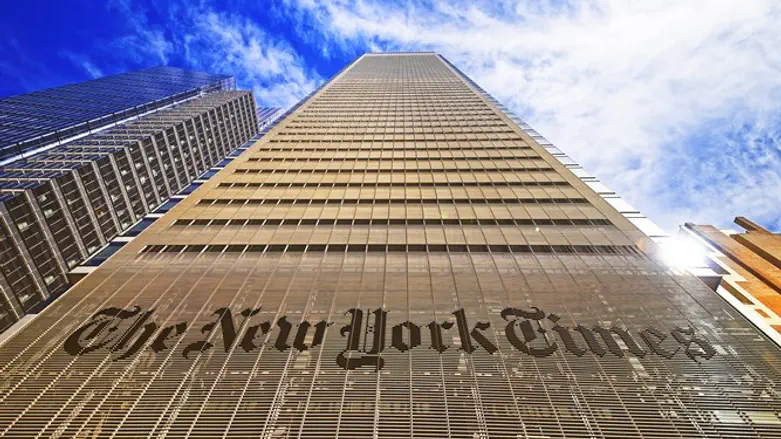 New York Times
iStock
The New York Times Editorial Board blasted PA Chairman Mahmoud Abbas for his anti-Semitic remarks on Monday during a speech in Ramallah, when he said that the Holocaust was the result of Jewish behavior in the financial sector rather than of anti-Semitism.
Calling the incident "a new low" for Abbas, The Times concluded that "it is time for [Abbas] to leave office."
In a piece titled "Let Abbas' vile words be his last as Palestinian leader" representing the opinion of the newspaper's "board, its editor and publisher," The Times said that Abbas had "shed all credibility as a trustworthy partner if the Palestinians and Israelis ever again have the nerve to try negotiations."
"Mr. Abbas' anti-Semitic tendencies are not new," the piece said, noting that Abbas' dissertation questioned the death toll of six million Jews in the Holocaust.
"Things looked more hopeful in 1993 when Mr. Abbas stood on the White House lawn and watched Prime Minister Yitzhak Rabin of Israel and Mr. Arafat sign the Oslo Accords that were supposed to eventually lead to two states and peace," the article claimed, continuing that "In the intervening years, there have been ups and downs in that quest, but the trend for some time has been depressingly downward."
"The dream of an independent Palestine faded further away and Mr. Abbas came under increasing pressure," The Times wrote, asserting that "Pressures, some of his own making and many others caused by Israel, which has ultimate control over the West Bank, are building."
"Mr. Abbas, who oversees a governing system plagued by corruption and dysfunction, has lost support among the Palestinian people.
"He has weakened government institutions that are essential for a future state and refused to call new elections, thus overstaying his term by many years and preventing younger leaders from emerging.
"He has also failed to unify the Palestinians in the West Bank, where his Fatah faction dominates, with those in the even more desperate circumstances of the Gaza Strip, where Hamas holds sway.
The Times concluded that "Even in this gloomy climate, however, Mr. Abbas' vile speech was a new low."
"No doubt he feels embittered and besieged on all sides. But by succumbing to such dark, corrosive instincts he showed that it is time for him to leave office.
"Palestinians need a leader with energy, integrity and vision, one who might have a better chance of achieving Palestinian independence and enabling both peoples to live in peace," The Times wrote.