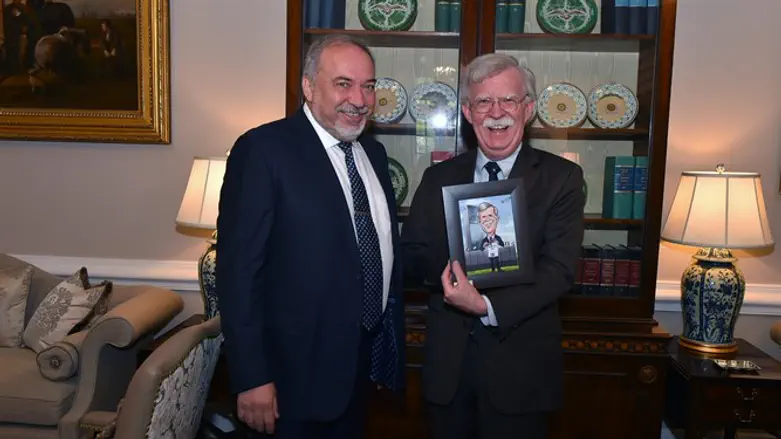 Liberman and Bolton
Ariel Hermoni
Defense Minister Avigdor Liberman met on Thursday with US National Security Advisor John Bolton in Washington DC. The meeting was also attended by Jason Greenblatt and Jared Kushner.
Liberman congratulated Bolton on becoming National Security Advisor, saying that "John Bolton is a loyal friend of the State of Israel, who is very familiar with the Iranian threat, and I am pleased that the Americans see with us the situation in the Middle East and thank the administration for its support of Israel."
The Defense Minister also gave Bolton a caricature in which he appeared to tear up the UN resolution comparing Zionism to racism, which Bolton was one of the leaders of the struggle to abolish.
The Defense Minister will also pay an official visit to the Pentagon and meet with his counterpart, Defense Secretary James Mattis.
Liberman has traveled to the United States for talks on countering Iran's "expansion" across the Middle East, especially in Syria, his office said.
The visit comes ahead of a May 12 deadline US President Donald Trump has set to decide on the fate of a nuclear deal with Iran.
Trump has derided the deal as a capitulation to Tehran, saying it is no longer in the US's interest to maintain the sanctions relief granted to Iran by his predecessor Barack Obama in return for controls on its nuclear program.
During a visit to Washington on Tuesday, French President Emmanuel Macron called jointly with Trump for a new nuclear deal with Iran.
Trump's European allies have repeatedly tried to persuade him not to walk
away from the 2015 deal, which gave Iran massive sanctions relief and the guarantee of a civilian nuclear program in return for curbs on program that could be used to develop an atomic weapon.