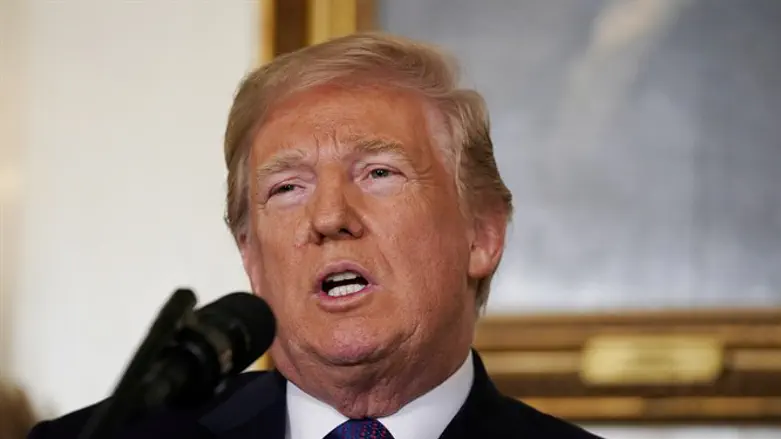 Donald Trump
Reuters
The US State Department has dropped claims that Israel's presence in Judea, Samaria, and eastern Jerusalem constitutes an "occupation" from its annual human rights report, a significant shift from the position held by previous administrations under both Republican and Democratic presidents.
The Country Reports on Human Rights Practices, which covers 2017, the first year of President Donald Trump's presidency, was released by the State Department on Friday.
While in previous years, the report's section covering Israel was entitled "Israel and the Occupied Territories", Friday's report refrained from using the term "occupied", and instead entitled the section "Israel, Golan Heights, West Bank, and Gaza".
In the body of the text, the State Department also scrubbed the term "occupied", often used by critics of Israel's presence in Judea, Samaria, Jerusalem, and the Golan Heights to delegitimize Israeli control of those areas.
While the "occupied" appears numerous times in previous editions of the report, this year's report on human rights practices uses the term only three times: once in a direct quote, once more in reference to a claim made by far-left NGOs, and a third time with regards to the Golan Heights. The Israeli government applied Israeli sovereignty to the Golan Heights in 1981, though the US State Department has not recognized the move.
The report, which documents allegations of misconduct by Israeli authorities, Hamas in the Gaza Strip, and the Palestinian Authority in Judea and Samaria, has few substantive changes from previous reports.
Yet the removal of virtually all references to the allegation that Israel is an occupying power in Judea, Samaria, and eastern Jerusalem drew headlines over the weekend, and elicited criticism from the Palestinian Authority.
Ahmad Majdalani, a senior member of the Palestine Liberation Organization, blasted the decision to scrub the term "occupied", and accused the Trump administration of "attempting to abolish the depiction of occupation from these territories, which affirms US complicity with the occupation."
The move, he continued, along with others by the Trump administration "discredit it and its team for the political process."
Last year, US Ambassador to Israel, David Friedman, reportedly urged the State Department to end its use of the term "occupied" with regard to Judea, Samaria, and Jerusalem.
Following the release of the report, Defense Minister Avigdor Liberman praised the Trump administration.
In a tweet Saturday, Liberman wrote that the move marked the beginning of the end of the 'false claim of occupied Palestinian lands'.
"The false claim of occupied Palestinian lands is now being exposed. There is a saying that if you repeat a lie enough, it becomes the truth, but the truth is always stronger. The report by the American State Department is proof of that."