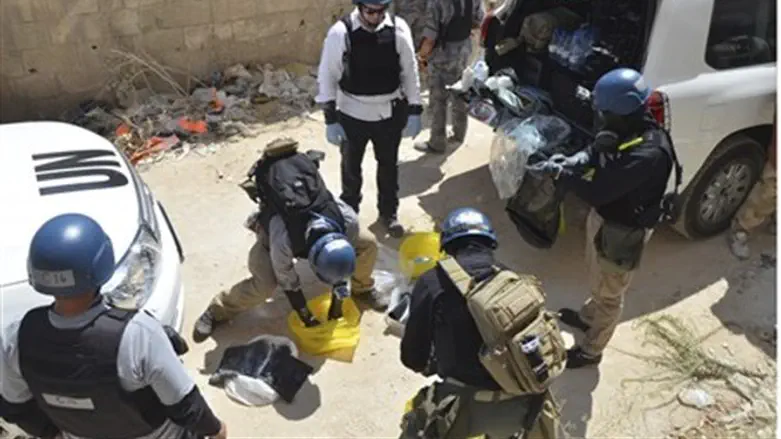 UN chemical weapons experts in Syria
Reuters
Days after the US, UK, and France attacked sites linked with Syria's chemical weapons program, an international watchdog group monitoring the use of banned chemical agents in warfare prepared to launch a probe into an alleged April 7th gas attack outside of Damascus.
On April 7th, rebel forces claim, warplanes belonging to the Assad regime attacked the rebel-held city of Douma, east of Damascus, killing dozens of civilians. The victims reportedly suffered from injuries consistent with chlorine and sarin nerve gas attacks.
The US later confirmed the claim, while allies of the Assad regime including Russia and Iran denied the charges, alleging that Western powers had 'staged' the apparent attack.
Last week, Russia vetoed a U.S.-drafted Security Council resolution that would have set up an investigation into chemical weapons use in Syria following an alleged toxic gas attack in rebel-held Douma.
On Saturday, the US, France, and UK launched more than 100 missiles against targets at three sites in Syria used by the Assad regime's chemical weapons program.
A day later, the Organisation for the Prohibition of Chemical Weapons (OPCW) dispatched a team to Douma to investigate claims of chemical weapons use against civilians.
"The fact-finding team arrived in Damascus on Saturday and is due to go to Douma on Sunday," Syrian Deputy Foreign Minister Ayman Soussan told AFP.
"We will ensure they can work professionally, objectively, impartially and free of any pressure," Soussan continued.
In 2014, the OPCW claimed that the Assad regime had disposed of its stockpile of banned chemical weapons, but three years later confirmed that sarin gas had been used in an attack on a rebel-held city in northern Syria.
OPCW leaders are slated to gather in The Hague on Monday to begin deliberations on the Douma incident.