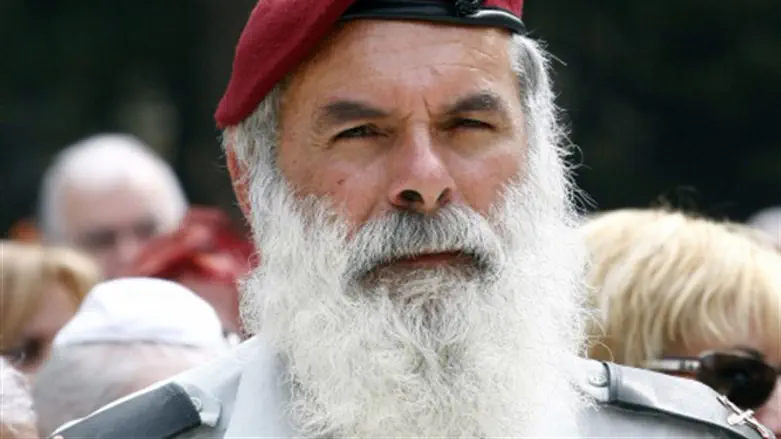 Rabbi Avichai Rontzki
Flash 90
Rabbis, government ministers, MKs and public figures remembered Rabbi Avichai Rontzki as a brilliant Talmudic scholar, leader, and former commando unit soldier, who revolutionized the IDF's Chief Rabbinate.
Rabbi Rontzki, who passed away Sunday morning at the age of 66 after a long battle with cancer, had served in the elite Sayeret Shaked unit. After 1973's Yom Kippur War, he and his wife became religiously observant and established the village of Itamar in Samaria, where the hesder yeshiva he headed is located.
In 2006 he was appointed as IDF Chief Rabbi with the rank of Brigadier General. During his four-year term, he revolutionized the IDF Rabbinate. Rabbi Rontzki, who worked tirelessly to turn combat soldiers who were suitable and had finished their term of service into IDF rabbis, believing that only a former combat soldier can understand the challenge the IDF soldiers face. According to Rabbi Rontzki, an IDF rabbi should not be limited to checking a military base's kosher certification but also instill "fighting spirit" into the troops.
As part of his aforementioned approach, Rabbi Rontzki campaigned to integrate the IDF Rabbinate into the rest of the military in every possible realm. He forced every IDF Rabbi, each of whom is a commissioned officer, to attend the army's IDF Bahad 1 officer training like any other commander. He also lobbied IDF rabbis to join their troops during operations and entered Gaza along with the combat units during 2008's Operation Cast Lead.
Rabbi Rontzki wrote the well known four volume army halakhic guide Hitzim K'yad Gibor. He.also established the Jewish Awareness Department which aimed to teach IDF soldiers about Jewish tradition. The department aroused a storm of controversy, with left-wing journalists and politicians charging that the effort was a thinly disguised 'missionary program' designed to turn soldiers religiously observant. Following years of criticism, IDF Chief Of Staff Gadi Eizenkot placed the department under the jurisdiction of the Personnel Directorate in 2016.
Rabbi Rontzki and his wife later spent time in India where their home near Nepal was open to Israelis who wished to discuss spiritual questions and yearnings."We hold some serious discussions here," he said, when interviewed by Arutz Sheva.. "Many of those who come here want to learn Indian spirituality, whether it is Hinduism or Buddhism. Many of them are high quality people, including IDF officers, pilots, and others. It's hard for me to accept that they come here for 'the truth' – which is really back at home, in our Torah."
"Rabbi Rontzki was courageous and groundbreaking in every role he served, " said Knesset Speaker Yuli Edelstein.
"Rabbi Rontzki was a man who gave himself over to everyone else," said venerable Relilgious Zionist leader, head of the Bnai Akiva yeshiva network and former MK, Rabbi Haim Druckman.. "He served the Jewish people in the army and fell in love with the Torah."
"He was a man who personified endless love," added Education Minister Naftali Bennett. "A daring commander in Sayeret Shaked during the Yom Kippur War, an IDF Chief Rabbi, the head of the yeshiva in Itamar, an educator and a leader, but for me, he was mainly a teacher and a partner. We already miss you."
"I wish to send condolences to the family and students of the late Rabbi Avichai Rotzky, who served as the former chief military chaplain and head of the Yeshiva in Itamar and was a fighter and scholar who loved the people of Israel and the Land of Israel. May his memory be blessed," wrote Prime Minister Netanyahu on Facebook.