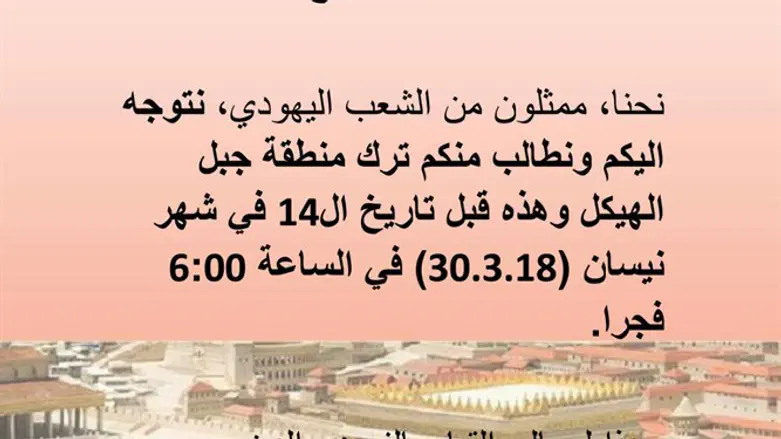 The sign in question
Hozrim Lahar
Three girls, activists of the "Return to the Mount" (Hozrim Lahar) movement, were detained for questioning by the police after they posted Arabic signs in the Muslim Quarter calling on Muslims to leave the Temple Mount area until Friday night, in order to allow Jews to sacrifice the Passover offering (Korban Pesach).

The three girls were detained for questioning at the police station on suspicion of hanging the signs, and are receiving legal aid from the Honenu legal organization.

This year, for the fourth time in a row, activists of the movement are expected to come to the Old City on the eve of the Passover holiday, which falls this year on Friday, with goats that they will sacrifice as a Passover offering.

"Israel Police operates throughout the Old City in general and on the Temple Mount in particular, while maintaining public order in the area, along with a range of checks made for all residents and religions to maintain freedom of religious worship," police said.
"Police will act with determination and without compromise against anyone who tries to break the rules of the place," it said.