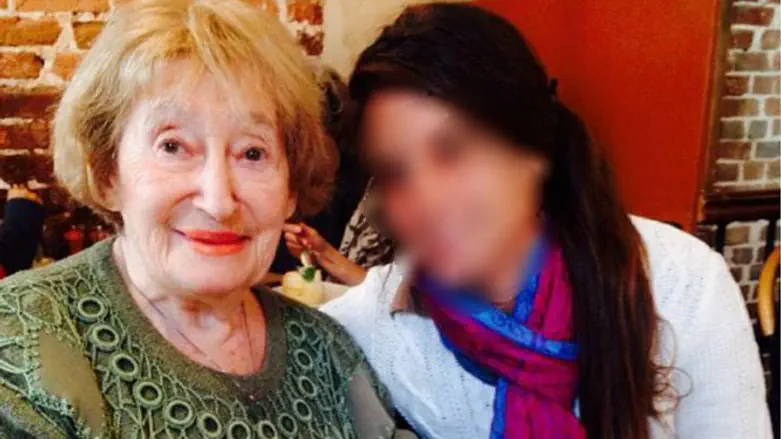 Mireille Knoll (l)
Courtesy of the family
Two people have been charged with the murder of an 85-year-old French Jewish woman, who was stabbed and whose body was then set on fire in a crime being treated as an anti-Semitic hate-crime, a judicial source said Tuesday.
Mireille Knoll, who escaped a mass roundup of Jews in Paris during World War II, was found dead in her apartment in eastern Paris on Friday by firefighters called to extinguish a blaze.
An autopsy showed she had been stabbed several times before the apartment was set on fire.
On Monday, investigators said they believed the crime was related to her religion after initially saying they were "not excluding any hypothesis".
One of the suspects is a neighbor in his twenties whom she knew well and who had visited her that day, Knoll's son, who did not wish to be named, told AFP.
A police source said he had convictions for rape and sexual assault.
The second suspect, aged 21, has a history of violent robbery.
He was in the apartment building on the day of Knoll's death and his name was given to police by the first suspect, a police source said.
The death of the woman described by neighbors as very quiet has shocked the Jewish community, coming a year after an Orthodox Jewish woman in her sixties was beaten and thrown out of the window of her Paris flat by a neighbor shouting "Allahu Akhbar" (God is greatest).
The murder reignited the debate over anti-Semitism in working-class districts of France, where Jews have been targeted in several jihadist attacks in recent years.
Reacting on Twitter President Emmanuel Macron condemned the "dreadful" killing and reiterated his determination to fighting anti-Semitism.
Knoll managed to avoid the notorious 1942 roundup of more than 13,000 Jews in Paris by fleeing with her mother to Portugal when she was 10.
After the war she returned to the French capital and married a Holocaust survivor, who died in the early 2000s.
France's half-a-million-plus Jewish community has voiced increasing concern over a rise in violent anti-Semitic acts.
Last month, a judge confirmed that the April 2017 murder of Sarah Halimi, a 65-year-old Orthodox Jewish woman who was beaten and thrown out of her window was indeed motivated by anti-Semitism.
Knoll's granddaughter, Noa Goldfarb, wrote on Facebook that her grandmother had been murdered by a Muslim neighbor.
"Twenty years ago I left Paris knowing that my future was not there, neither mine nor that of the Jewish people," she wrote. "But who would've thought that I was leaving my relatives where terrorism and cruelty would lead to such a tragedy. My grandmother was stabbed to death 11 times by a Muslim neighbor she knew well, who made sure to set fire to her home and left us not even one object, a letter, a photograph, to remember her by. All we have are our tears and each other."