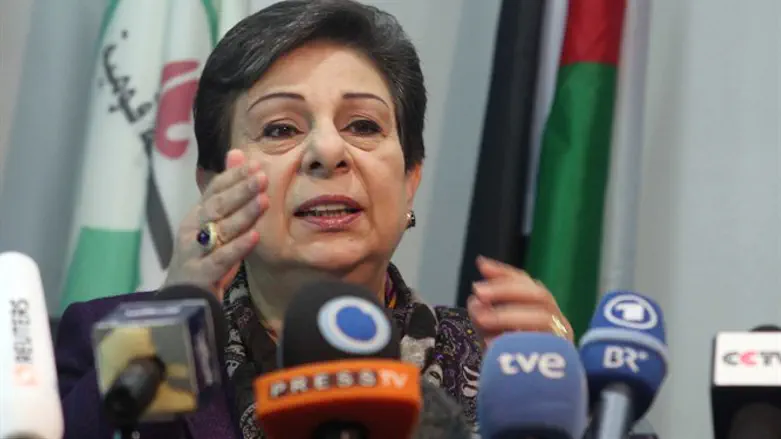 Hanan Ashrawi
Issam Rimawi/Flash 90
The Palestinian Authority ramped up its rhetoric against the White House Friday, issuing a scathing condemnation of the Trump administration following the selection of former US Ambassador to the United Nations John Bolton to replace outgoing National Security Advisor H.R. McMaster.
On Thursday, President Donald Trump announced via Twitter that National Security Advisor H.R. McMaster would be replaced next month with former Ambassador John Bolton.
"I am pleased to announce that, effective 4/9/18, @AmbJohnBolton will be my new National Security Advisor. I am very thankful for the service of General H.R. McMaster who has done an outstanding job & will always remain my friend. There will be an official contact handover on 4/9."
While the selection of Bolton, a long-time backer of the Jewish state, was met with praise by Israeli leaders, Palestinian Authority legislator and spokeswoman Hanan Ashrawi excoriated President Trump over the pick, and accused Bolton of "hostility" towards Palestinian Arabs.
"This man has a long history of hostility to Palestinians, dating to when he was at the United Nations, where he was protecting Israeli immunity," Ashrawi told AFP on Friday.
Ashrawi went on to say that President Trump's decision to appoint Bolton revealed that his administration "has joined with extremist Zionists, fundamentalist Christians and white racists."
"All this will lead to a devastating reality for Palestine and the region."
Bolton has in the past criticized the two-state solution, and in a 2017 ceremony marking the 50th anniversary of the reunification of Jerusalem, said the two-state solution was "dead".
We have reached the end of the illusion that began in 1964 with the establishment of the PLO, which created a feeling that it is the Palestinian alternative, and the issue here is not in the borders but in the nature of the state that will be alongside Israel which will be a state of terror, so it should not be," Bolton said.
Education Minister Naftali Bennett congratulated Bolton on Friday, tweeting "Great appointment of Amb. John Bolton, an extraordinary security expert, experienced diplomat and a stalwart friend of Israel. Good luck John!"