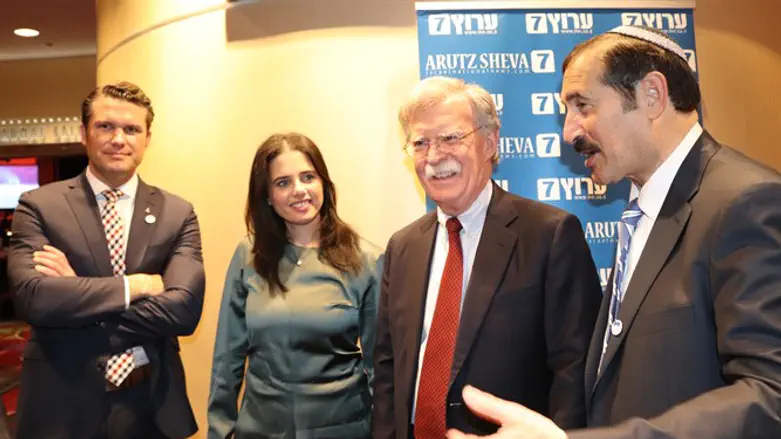 Ayelet Shaked (c-l), John Bolton (c-r),  Pete Hegseth (l)
Eliran Baruch
Senior Israeli officials applauded President Trump's selection of former United States Ambassador to the United Nations John Bolton to replace outgoing National Security Advisor H.R. McMaster, noting Bolton's strong support for Israel and his opposition to the 2015 Iran nuclear deal
On Thursday, President Donald Trump announced via Twitter that National Security Advisor H.R. McMaster would be replaced next month with former Ambassador John Bolton.
"I am pleased to announce that, effective 4/9/18, @AmbJohnBolton will be my new National Security Advisor. I am very thankful for the service of General H.R. McMaster who has done an outstanding job & will always remain my friend. There will be an official contact handover on 4/9."
On Friday, Justice Minister Ayelet Shaked (Jewish Home) congratulated Bolton on the appointment, hailing the former ambassador as a 'true friend of Israel', and said the move showed the Trump administration backed the Jewish state.
"President Trump continues to appoint true friends of Israel to senior positions," the Justice Minister said Friday morning.
"John Bolton is one of the most obvious examples. It is an excellent choice. Bolton is very experienced and thinks outside of the box. The Trump administration is increasingly showing itself to be the most supportive [administration] of Israel ever."
Education Minister and Jewish Home chief Naftali Bennett tweeted his support for Bolton's appointment, writing "Great appointment of Amb. John Bolton, an extraordinary security expert, experienced diplomat and a stalwart friend of Israel. Good luck John!"
Israel's Ambassador to the United Nations, Danny Danon, also responded to the appointment, calling Bolton a "true friend of Israel going back many years, someone with a great deal of knowledge about the inner workings of the government."
Bolton, a long-time supporter of Israel, criticized the signing of the 2015 Joint Comprehensive Plan of Action (JCPOA) with Iran and has lobbied for the US to abandon the agreement since. The former ambassador last year declared the two-state solution dead, and slammed Palestinian Authority chief Mahmoud Abbas as having 'no legitimacy'.
"We have reached the end of the illusion that began in 1964 with the establishment of the PLO, which created a feeling that it is the Palestinian alternative, and the issue here is not in the borders but in the nature of the state that will be alongside Israel which will be a state of terror, so it should not be," Bolton said during a 2017 ceremony marking the 50th anniversary of the reunification of Jerusalem.