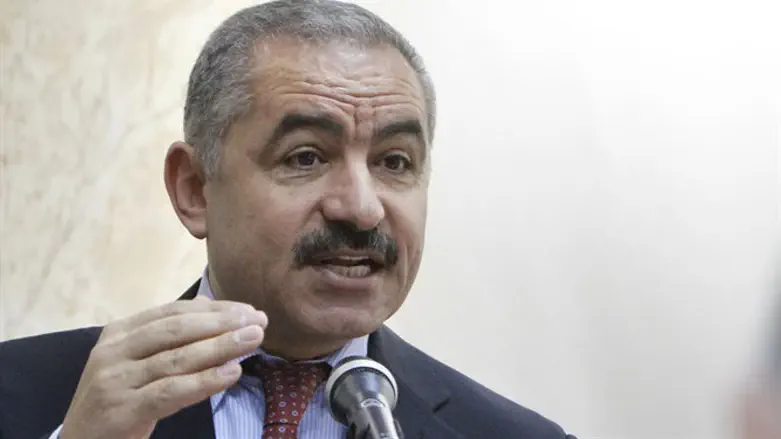 Mohammed Shtayyeh
Flash 90
A senior Palestinian Authority official accused President Donald Trump of leading Palestinians to the slaughter, comparing the president's policies regarding Israel and the PA to an abattoir.
On Tuesday, Mohammad Shtayyeh, a minister in the Palestinian Authority and a close adviser to PA chief Mahmoud Abbas, decried President Trump over his historic decision to recognize Jerusalem as Israel's capital city, the decision to transfer the US embassy from Tel Aviv to Jerusalem, and cuts in aid for United Nations Relief and Works Agency for Palestine Refugees in the Near East (UNRWA), which serves Palestinian Arab populations around the Middle East.
"Today what is happening with us is what you call in the United States a cattle chute trap," Shtayyeh told journalists in Ramallah Tuesday.
"They bring the cattle in a yard with one single exit, with a man on a horse and a whip. And they keep pushing the cow into the trap. By the time every single cow gets through, it is shot in the head with an electric gun, then goes in a belt to the slaughtering house, then we eat it as hamburger."
"With the Palestinians, what is happening is exactly the same."
Shtayyeh's comments came a day after President Trump met with Israeli Prime Minister Binyamin Netanyahu in Washington.
During the meeting, President Trump reiterated his desire to reboot direct final status talks between Israel and the Palestinian Authority, which have been frozen since 2014.
"The Palestinians, I think, are wanting to come back to the table very badly," Trump said during his meeting with Netanyahu at the White House.
"If they don't, you don't have peace. And that's a possibility also."