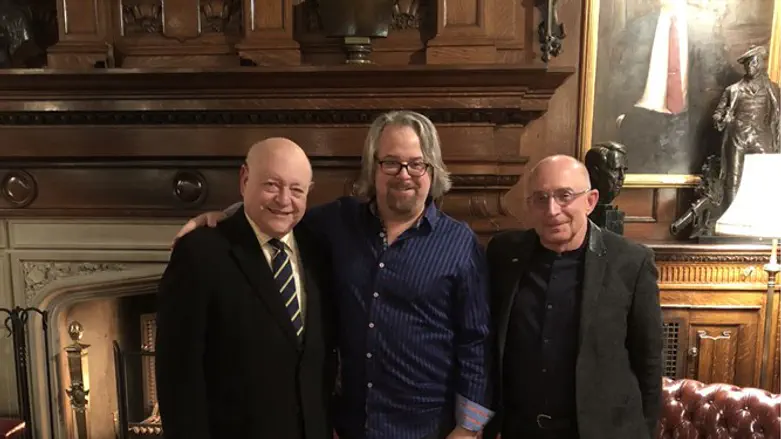 Mark Yudof (left), Ron Robin (right), and Marc Berley (center) at a special briefing
American Society of the University of Haifa
As Jewish and pro-Israel students grapple with the multifaceted challenges posed by the Boycott, Divestment and Sanctions (BDS) movement, influential current and former university administrators from the UA and Israel unpacked the nature of the BDS threat and potential solutions during a briefing hosted by the American Society of the University of Haifa this week in New York City.
An in-depth discussion featured Mark G. Yudof, former president of the 10-campus University of California (UC) system, and Ron Robin, current president of University of Haifa.
Yudof said that defeating BDS on campuses requires virtually the same approach as an election campaign, estimating that Israel advocates nationwide are now winning 60 percent of student government votes on pro-BDS resolutions.
"It is like running someone for governor, and that's what it takes," said Yudof. "For a long time we used the word organizing, now we're organizing. The way these things are won is completely through politics."
Yudof noted that pro-BDS measures have been adopted by student governments at eight of the nine UC campuses where undergraduates are enrolled.
"No university has adopted the boycott, divestment, and sanctions plan of any of these student governments, but it's demoralizing, particularly for Jewish students, to have them adopted on campus," said Yudof.
"The narrative is often anti-Semitic," he said. "The Jewish students have to sit through it when they say, 'Jews control the media, they control Congress.' If you were speaking in the 19th century or in Munich in the 1920s, it would be a lot of the types of things the Nazis might have said."
Yudof said BDS activists give "zero weight to the notion of a sovereign people having its own sovereign nation."
"Even the Kurds get more of a nod than the Jews for an independent state," he said.
Robin pointed out that free speech and diversity of thought have always been crucial components of all great liberal arts universities. These principles are particularly valued at University of Haifa.
"The University is a microcosm of Israeli society," Robin said. "Tolerance, acceptance, and the free exchange of ideas fostered throughout our campus can serve as a model for change across the world and is the best antidote in fighting BDS."
Yudof was president of the UC network from 2008-2013, chancellor of the University of Texas system from 2002-2008, and president of the University of Minnesota from 1997-2002. He currently chairs the Advisory Board of the Academic Engagement Network, an organization of American college and university faculty opposing BDS and standing for freedom of expression.
Robin is a renowned historian who earned his PhD in American history from UC Berkeley, where he was a Fulbright Scholar. He served as a faculty member at University of Haifa for 20 years before joining New York University as senior vice provost for global faculty development, and then returned to University of Haifa in 2015 to assume the role of president.
"Our briefing with Mark Yudof and Ron Robin was a unique opportunity to hear high-level insights on BDS from both American and Israeli experts with decades of experience in the campus arena," American Society of the University of Haifa CEO Karen Berman said. "We hope that this discussion will substantively advance the discourse on BDS and how we can counter it."